Ford F-150 EV prototype tows a million pounds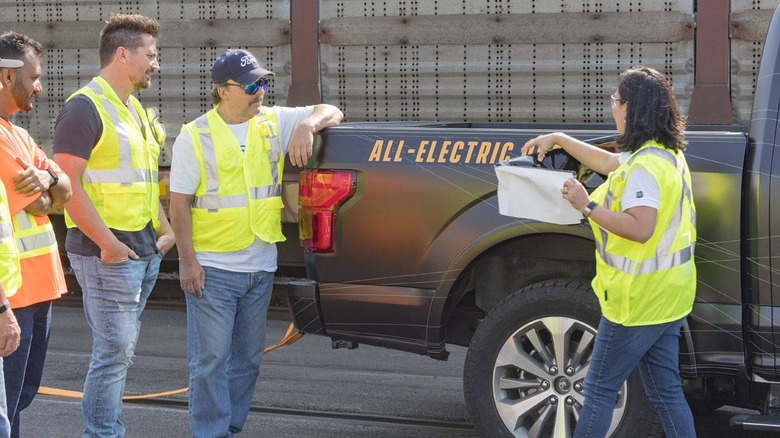 The automotive market continues to march towards EVs and hybrids to meet increasing emissions and efficiency goals globally. Big vehicles like trucks and SUVs are some of the segments where electrification can have the most significant impact. Ford has been clear that it is working on electrified versions of its vehicles and that while some will only see hybrid models, others will go full electric.
The Ford F-150 is getting a fully electric version, and the Blue Oval is bragging about the capabilities of the fully-electric F-150 prototype. The challenge for Ford is that truck buyers who work with their vehicles often don't care about fuel economy and efficiency as much as they do capability, Ford is showing off the capability of its prototype electric F-150 truck to show truck buyers that a fully-electric F-150 will be green and better for the environment, but will be incredibly powerful and capable at the same time.
Ford set its prototype F-150 truck up to tow a massive line of rail cars that weigh a more than 1.25 million pounds. The F-150 is not only pulling the rail cars, but it's also pulling a load of conventional F-150 trucks inside them. Ford's feat used ten double-decker freight cars.
The ten double-decker freight cars were loaded with 42 F-150 trucks. With all that weight, the electric F-150 pulled the cars a distance of 1,000 feet. The line of Ford F-150 trucks outside the rail cars marks the 1,000-foot distance.
It's impressive to see the electric F-150 truck take off with that much weight behind it. There is no drama, no effort, the massive set of train cars just starts rolling. In one scene you can hear one of the engineers saying that the truck is towing the 1.25 million pound train cars at 4.5 mph.