Ford EcoSport cute ute unveiled at 2016 LA Auto Show

The burgeoning cute 'ute scene just got that much bigger, thanks to tonight's introduction of the Ford EcoSport. Perhaps 'introduction' is too strong of a word – the EcoSport has been on sale for more than 10 years all around the world, but has thus far eluded American buyers.
Why has Ford kept the EcoSport a secret? It's all about the shifting market: with SUVs suddenly the hottest segment in the industry, every car company is doing whatever it can to snag a piece of the action – and that includes deputizing models from their global portfolios. This is how a subcompact like the EcoSport, previously judged to be too small for American tastes, suddenly finds itself getting a crash course in U.S. safety and emissions standards.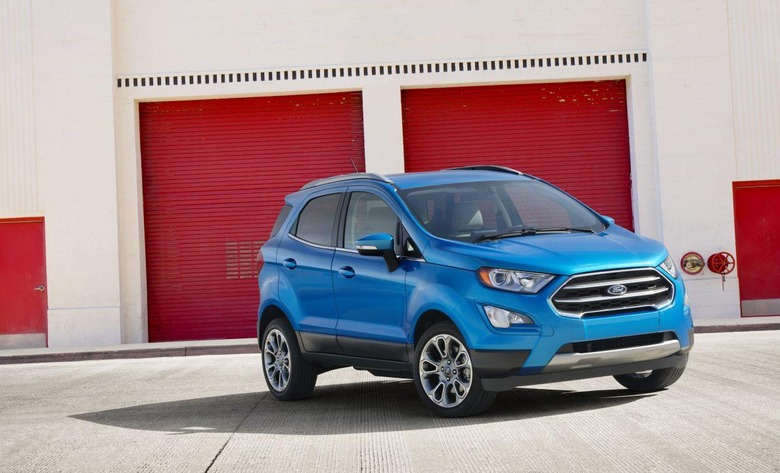 We haven't been told much about the EcoSport, other than that it will be offered in the first quarter of 2018 – which is quite a long ways away. This helps to explain the lack of details, for while we were informed that the Ford SUV will offer both a 1.0-liter turbocharged EcoBoost three-cylinder engine and a non-turbo 2.0-liter four-cylinder, that was as far as the mechanical discussion went. All-wheel drive will of course be available – although only on 2.0-liter models – and a six-speed automatic transmission handles the gear shifting duties for all versions of the EcoSport.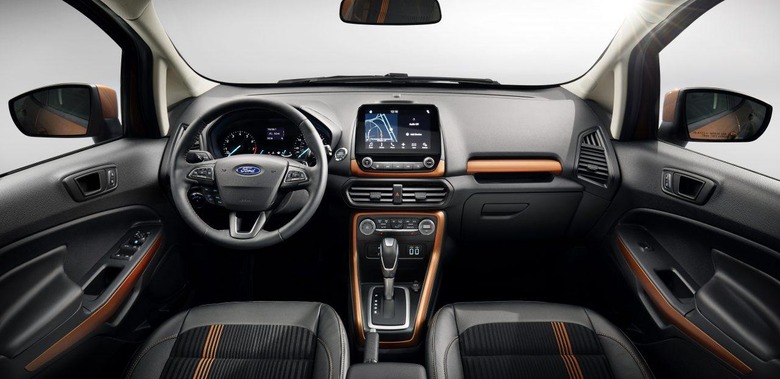 Ford currently offers each of those engines in the compact Focus (with the 1-liter also found in the Fiesta), where they produce 123 horsepower and 160 horsepower, respectively. It's reasonable to expect similar performance out of the Ford EcoSport once it clears all of the regulatory hurdles set before it, and both of those numbers (plus the torque that comes with the turbo engine) will keep it competitive against other pint-size SUVs like the Mazda CX-3 and the Chevrolet Trax.
Also helping the EcoSport fight the good fight are tech features like the SYNC 3 infotainment system, which comes with Apple CarPlay and Android Auto support, as well as a 675-watt stereo system developed by Bang & Olufsen. Ford is specifically targeting young buyers as well as empty-nesters looking for extra cargo space with the new EcoSport SUV.