Ford creates 850 HP 2013 Shelby GT500 Cobra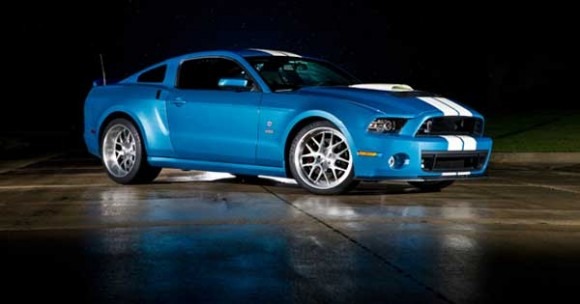 Automotive legend Carroll Shelby died earlier this year. Shelby was most known for his work with Ford for special editions of the Mustang and as the creator for the race winning Shelby Cobra sports cars from the 60s. Ford recently created a special one-of-a-kind 850 hp 2013 Shelby GT 500 Cobra as a tribute to Shelby.
The car was constructed by the "Friends of Carroll Shelby" to commemorate the life and the Mustang legacy Shelby left behind. The car has a special Ford Racing supercharged V-8 engine, a Shelby American wide-body kit, and is painted in guardsman blue with Wimbledon white stripes. The 2013 GT500 comes with 662 HP from the factory.
The special one-of-a-kind version of the car uses a Ford Racing 4.0-liter Whipple supercharger to achieve 850 hp. The car also gets 13-inch wide rear wheels with 345 section high-performance tires to put all the extra power to the ground. I already mentioned that the car had a special wide-body kit installed, it also gets a special hood and Shelby Wilwood brakes.
Other unique features include custom 20 x 13 rear and 20 x 10 front wheels. The G B and White color combo is well known and was most popular color combinations on Shelby's iconic Cobra roasters from the 60s. Ford also renamed one of the streets that runs through the heart of its Product Development Center in Dearborn, Carroll Shelby Way.