Ford confirms fuel-efficient 1.0-liter EcoBoost engine for European Focus range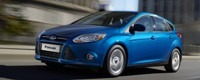 Carmakers have a long history of taking some of the more interesting car models and only offering them over in Europe. Often it is the really high performance versions in the Ford range that we can't get here in the US for some reason. At The Frankfurt Motor Show, Ford has confirmed that the European line of new 2012 Focus cars will be able to get a new 1.0-liter EcoBoost engine.
The EcoBoost family of engines is extensively used around the world thanks to the ability for a smaller displacement engine to offer the performance of a larger engine via adding turbochargers to the smaller motor. The EcoBoost that will be in the European focus is a tiny 1.0-liter engine that offers the performance of a traditional 1.6L engine, but is more efficient.
The 1.0L engine will offer 98 hp and 118 hp in different versions with five-speed and six-speed manual transmissions respectively. The 98 hp five-speed transmission is likely an automatic since it has lower power output. Ford also notes that eventually this EcoBoost engine will make its way to models in North America as well.