Ford C-Max Energi offers the most range of any plug-in hybrid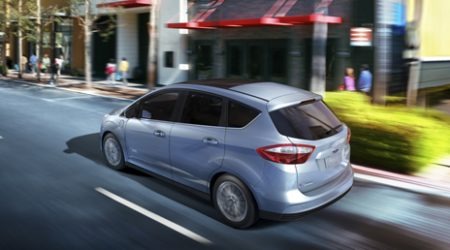 Ford has announced EPA-certified efficiency numbers on the all-new 2013 C-Max Energi. This vehicle is a plug-in hybrid and has been EPA certified at 108 MPGe in the city, 92 MPGe on the Highway, and 100 MPGe combined. Ford estimates that the vehicle will save drivers about $7000 in fuel costs over five years.
One of the most impressive features of the C-Max Energi is its driving range on a single tank of fuel and a fully charged battery. The vehicle can go 620 miles with a full tank and a topped off battery, which is 80 miles further than Toyota's Prius plug-in. Despite the longer driving distance and impressive EPA certified economy figures, the C-Max Energi is the most affordable plug-in hybrid vehicle in America.
The car carries an MSRP of $29,995 after federal tax credits. A driving range of 620 miles with a full battery and a full tank of gas is enough to get owners from Detroit to New York City or Los Angeles to Las Vegas on a single tank of fuel. The vehicle can also drive up to 21 miles in electric mode only, which is over three times as far as the Prius plug-in can travel in electric mode alone.
The C-Max Energi has 195 net system horsepower with a fully charged battery, which is 60 more than Toyota's plug-in hybrid. The vehicle can also travel up to 85 mph in electric mode, giving it the ability to cruise even the fastest highways. The car also has Ford's EV+ system allowing the vehicle to stay in electric only mode for longer durations by learning frequent destinations.