Ford approved 65-66 Mustang convertible body shell now available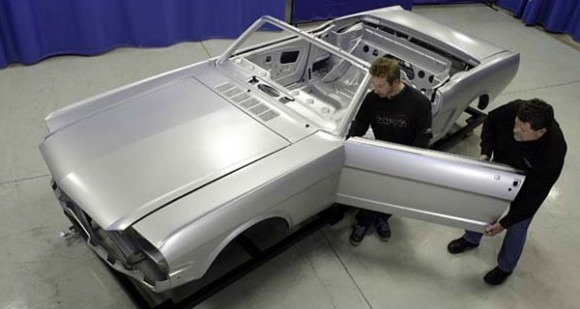 One of the most iconic and frequently restored of all mustangs is the first generation cars from 64.5 to 1966. The problem with restoring one of these old cars is that many of them have long since succumbed to rust and damage from the decades on the road. That leaves a bunch of folks that would like to have a fully restored Mustang sitting in the garage out of luck. A company called Dynacorn International is now making a fully licensed Ford Mustang convertible body shell.
The body is a 100% reproduction of the original 1964.5, 1965, and 1966 convertible body and comes complete and ready for you to paint and install the interior and drive train into along with other parts. The idea is that the restorer can use this body and swap over parts to build a complete car rather than trying to weld and fix body damage or rust.
The new body can be used along with other Ford approved Mustang restoration parts to build a completely new Mustang if that is what the builder wants to do. The new body is made with better materials and techniques than the originals making a car built using these parts stronger than the originals. This company already makes body shells for the 67-68 and 69-70 fastback mustangs too. The price for the new convertible mustang body starts at $15,000.