Fluance Fi70 Review: A Massive, Beautiful Bluetooth Speaker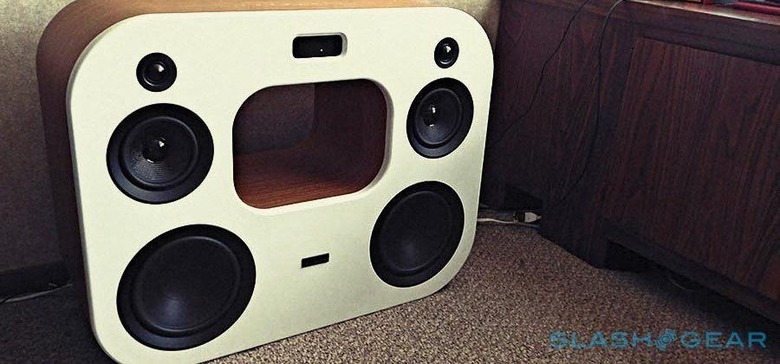 There are speakers, and then there are speakers. When I first saw a picture of Fluance's Fi70 wireless speaker, it was on a pedestal and I imagined it to be something somewhat hefty but not enormous. I realized I was mistaken when a 100lbs box appeared on my front porch. Though officially referred to as a wireless speaker, the Fluance Fi70 is more appropriately described as a sound system aggregated together into a convenient, awfully heavy box. How does it sound? In one word: incredible.
Getting the Fi70 out of the box isn't easy, but it's worth the effort. Upon first glance, the speaker is impressive — vaguely rectangular in shape with rounded corners, an open center, and a small digital display on the front. The speakers are hidden behind a solid black fabric front held to the speaker's face using magnets; pop it off and you'll see the six visible speakers, each symmetrically placed. If it's attractive with the cover on, it's downright beautiful with it off.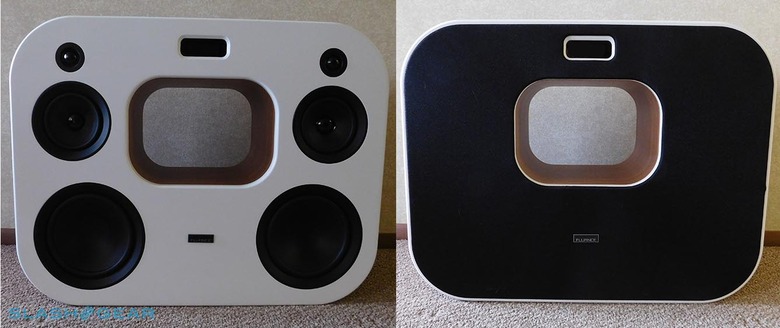 Fluance offers the Fi70 in a few different color arrangements — this particular model has a white face and is wrapped with light bamboo wood. Those who prefer something darker can get the speaker in Black Ash or Walnut, as well. The digital display is small and simple, showing the volume, bass and treble ratings, and the input mode: BT for Bluetooth, AUX for an audio cable, FM for radio, etc. The included remote is simplistic with only a handful of buttons and is by far the easiest way to control the speaker; it also includes a line of touch-based controls on the top, however.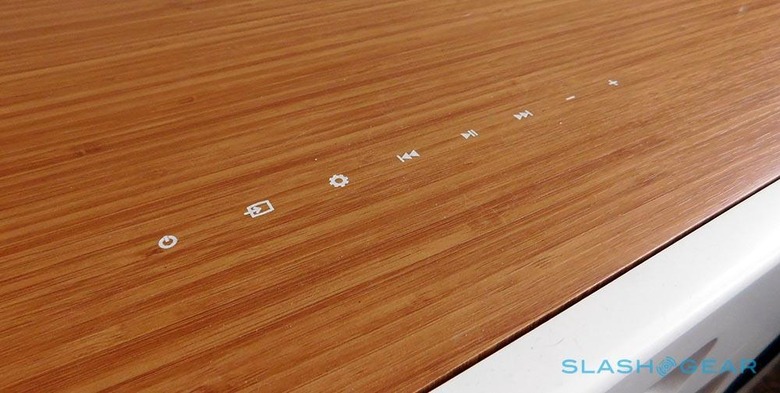 Getting the Fi70 up and running is beyond simple — if you're connecting your phone, just flip Bluetooth on, use the remote to toggle the speaker to "BT" mode, and choose "Fluance" from your device's settings. A dot will blink on the display letting you know it is connecting, then a voice will croon connected after a moment or two. If you want it connected to the TV and Bluetooth's not an option, you can plug an ordinary 3.5mm audio cable into the back, or use an optical setup.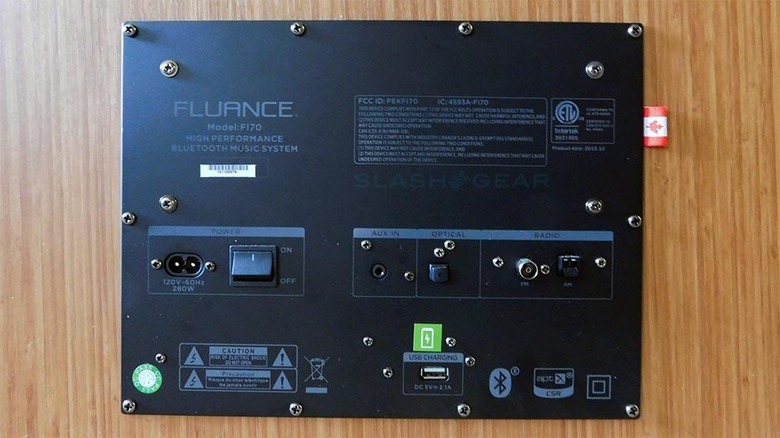 The speaker comes with a pedestal that elevates the unit nicely — overall I found I preferred the speaker sitting on the floor rather than on the pedestal, though it'll mostly depend on your home entertainment setup and how much space you have available.

SPEAKER CONFIGURATION: 3 Way 6 Driver Wireless Music System with Integrated Amplifier

BLUETOOTH: 2.1 + EDR (Enhanced Data Rate); aptX codec

INPUT: 3.5mm Aux Input; 2.1A USB Charging Input, Optical (Digital Toslink), FM/AM Antennas

TWEETER: Dual 1 Inch Silk Soft Dome Neodymium Ferrofluid Cooled

MIDRANGE: Dual 5 inch Woven Glass Fiber Composite Drivers with Butyl Rubber Surrounds

WOOFER: Dual 8 inch Polymer Treated High Excursion with Butyl Rubber Surrounds

AMPLIFIER POWER (RMS): 280 Watts Continuous Average Output (2x 140 watts)

FREQUENCY RESPONSE: 30Hz – 20KHz

CROSSOVER FREQUENCY: 150Hz / 2500Hz Phase Coherent – PCB Mounted Circuitry

ENCLOSURE: Tuned Rear Port Bass Reflex Design

DIMENSIONS: 29.5 x 11 x 23.2 inch (without stand) 29.5 x 11 x 36 inch (with stand)
Audio Quality
That's all great, but the big question is: how does it sound? First things first, it can get loud. Whatever you're thinking of as loud, amplify it. Your neighbors will have no problem hearing your movie or podcast if you don't keep things modest.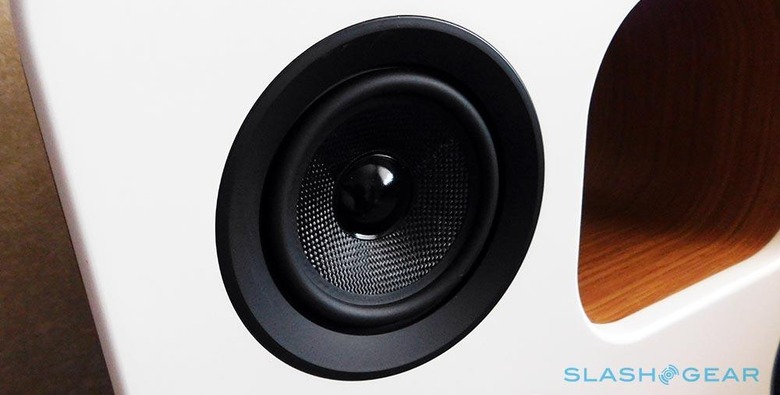 By and large, the audio quality is very good, though you'll no doubt have people arguing over the highs and lows and good and bad. What sounds excellent to one person may sound too warm or too muddled or too rumbly for another. The bass is definitely solid and present, but isn't overblown or comical. Users are given a reasonable amount of adjustments, able to take the treble and bass from -10 to +10.
If there's any part of the audio quality to nitpick at, it would be the treble, as there are some occasions where it seems to fall a tad short of where you'd expect it to be — not tinny, certainly, but perhaps a bit too cold to complement the all-around excellent bass. This assumes you even pause to pay attention to such fine details — for most people, the speaker sounds incredible and they had nothing but praise for it. Any issues you may find with the audio quality, they will be very small; everything from podcasts to video games sound robust, even, and entirely free of distortion even at loud volumes.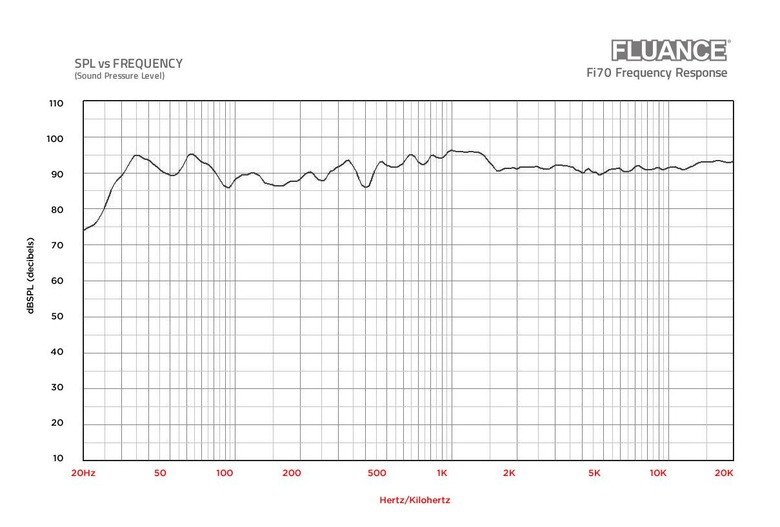 Things we Like
If there's any one big thing about the Fi70 to like (and really, there are many), it's the convenience of an all-in-one solution coupled with the high-quality audio and utter simplicity. Want to listen to your local FM station? Toggle it over to FM. Want to stream a podcast from your smartphone? Flip it over to Bluetooth. Running an auxiliary audio cable to your TV may be the most convenient setup for that, and again makes toggling between audio sources simple. It's that kind of no-hassle control that really brings the Fi70 home — it's all the convenience of a wireless speaker, but in a big, beautiful package.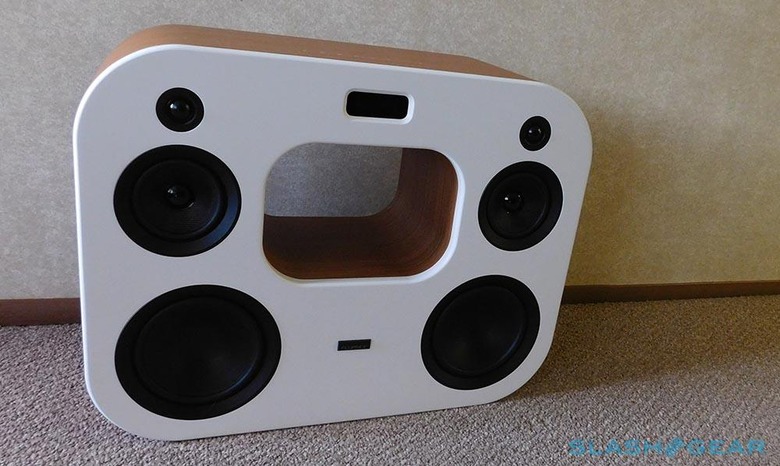 In addition to the convenience of having the entire system in a single unit, the Fi70 is also a work of art — it blends in with a modern decor style, not making a show of itself but immediately standing out to others who see it. The attention to detail is apparent and precise, with each component fitting together solidly and matching perfectly. Nothing rattles, nor do there appear to be any parts that could develop a rattle over time. As well, even with the bass turned up fully and the volume above 20, the speaker does not vibrate much — if you wanted to place a vase or picture frames or something on top of it, you wouldn't have to worry about them rattling off.
Things to Consider
Of course, nothing is perfect, and that includes the Fi70. The biggest 'concern' isn't so much a fault as it is a necessary consideration: the unit is very large, and so it won't be practical in tight setups and small entertainment rooms. As well, this isn't something you're going to be moving around much, unless you consider 80+lbs to be a trivial weight.

Everything is collected together into a single unit, and so you won't get the kind of surround sound you'd experience by mounting individual speakers in various corners of a room. Whether that is a plus or a minus entirely depends on you — for someone living in a fairly large apartment that has an absolute no-holes-in-the-wall-policy, a single unit like the Fi70 is the cleanest, most convenient way to have an stereo system.
Conclusion
The Fluance Fi70 is an all-around incredible Bluetooth speaker system, masterfully constructed, beautiful to look at, and exceptional to hear. If you're looking for an all-in-one audio system in a relatively compact form factor, look no further than the Fi70. Price is $499.99 on Fluance's website.