Flow Bluetooth adapter makes normal headphones apt-X wireless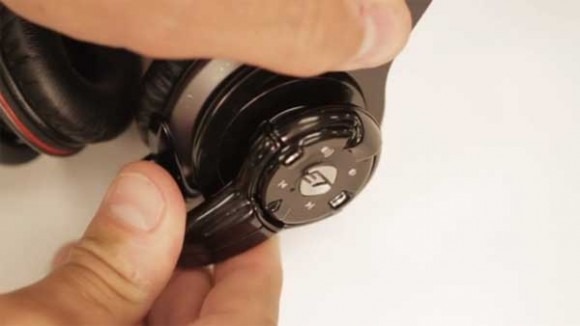 If you have a favorite set of headphones that have wires and the only thing that would make them better would be to snip those wires, Flow by EarTop might appeal to you. Wires can be very irritating if you're doing something where you have to move around a lot and the wires keep getting tangled. However, if you have a favorite set of headphones that aren't available in a wireless you haven't had a lot of options until Flow turned up on Kickstarter.
Flow is an accessory designed specifically for use with the Beats Solo and studio headphones as well as the Bose Quiet Comfort headphone models. The accessory turns the headphones into Bluetooth wireless units supporting APTX. The reason the adapter appears to support only the specific headsets has to do with the fact that they have removable headphone cables with a plug on the earpiece.
The Flow accessory as a small plastic dock that plugs into that headphone Jack and the Bluetooth accessory slips into the dock to support wireless music streaming. The outside of the Flow device has controls for power, volume, and tracks. The adapter runs on an internal rechargeable battery good for 12 hours of listening per charge.
The controls are actually capacitive touch sensors, and Flow has dual noise canceling microphones. Bluetooth technology inside the accessory is 2.1+ EDR and APTX and has a wireless range of 30 feet. The project is seeking $250,000 and has 34 days to go. At this time slightly under $30,000 has been pledged.