Flash Rods unveils souped-up USB 3.0 muscle car drives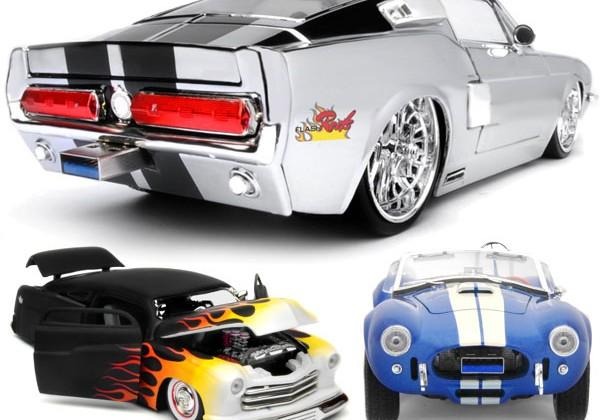 Flash Rods are flash drives that have been crammed inside of toy cars. These interesting storage devices have been around for a while. In fact, we talked about a version couple years ago that crammed a 250 GB hard drive inside of a Mercedes SLS replica.
It has been a while since we've heard anything new out of Flash Rods, but the company is now back with a new mid-size range of storage devices crammed inside of cool model cars. This particular series is based on classic muscle cars includes drives housed inside of vehicles like a 1963 Lincoln Continental, a 67 Mustang, or a Shelby Cobra.
These mid-size flash drives are larger than the Hot Wheels size cars that Flash Rods originally created, yet smaller than the 250 GB Mercedes SLS replica I mentioned before. Another nice feature is that these will be the first Flash Rods that have USB 3.0 drives inside. All previous versions of the car-based storage devices used USB 2.0 drives.
In all, Flash Rods is offering seven new vintage car storage drives. These storage devices would have started off as larger toy cars you can pick up at a store like Walmart. However, if you like the idea of a flash drive inside of a car toy, you might be interested in plunking down $110 for the 32 GB version or $140 for the 64 GB version.
[via EverythingUSB]