Flameflex creates a fire tornado on your table that won't burn the house down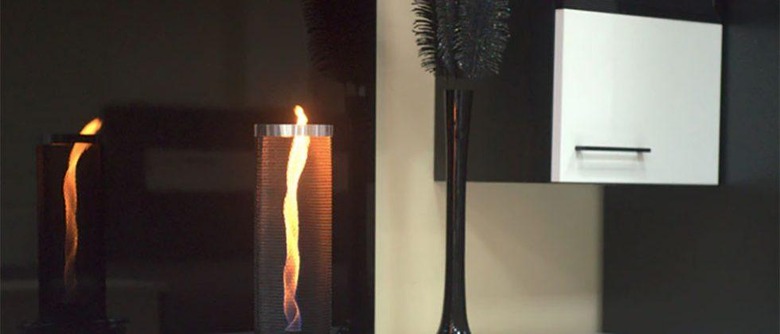 If you have a bit of fire bug in you, but you don't want to have to fiddle with fireplaces or fire pits that leave behind ash that you have to clean up, Flameflex is the ticket. This little gizmo has a mesh tube that surrounds an open flame that is twisted into a tornado shape by fancy magical technology inside the base of the Flameflex.
The device is designed to be used inside a home and the design aims to fit in with any decorating style. The design of the device inside has a cylinder that turns around and creates a low pressure zone inside. That low pressure zone turns the normal flame into a 12-inch pillar of fire. The device uses no fans or blades inside meaning the flame moves differently each time it is used.
A special thermonet cylinder keeps the flame from heating up to a high degree, this means that after hours of use the cylinder on the outside does not heat much. The device is held to the surface you sit it on via a suction cup. The people behind the device say that if you keep it away from pets and kids, it's as safe as a candle. Power comes from USB or batteries and the fuel is whatever bioethanol you can find in your area.
Flameflex comes in four different styles with a wood base, brass base, copper base, or aluminum base. The project is on Kickstarter seeking $10,000 and has already doubled that goal with over $26,000 raised with 20 days to go. An aluminum base will cost you $66 or more, wood base $69 or more, brass base $71 or more, copper base $78 or more and if you want all four it will set you back $274. Shipping is expected in January 2017.
SOURCE: Kickstarter