Five Unusual Android Launchers To Spruce Up Your Phone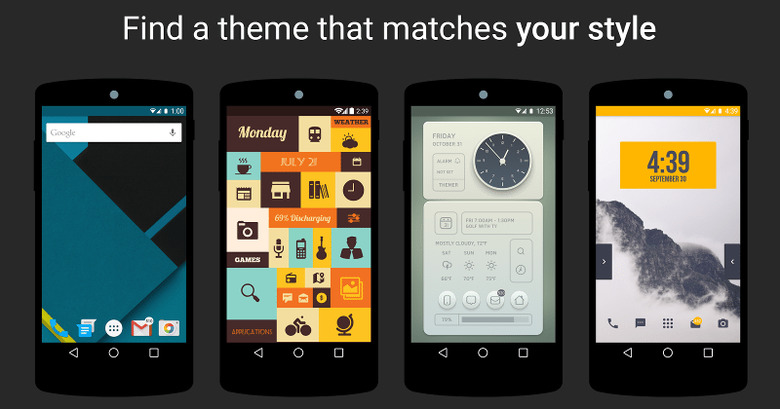 One of the benefits of Android's openness is that many of its parts can be replaced by third party apps and services. One of those parts is the homescree and app launcher, the very first piece of software the user meets when using their smartphone. After the lock screen, of course. You might have heard of launchers like Nova, Apex, Go, or even Google's own Google Now, but here are five more that you won't usually read about in the news unless they have a major update or release.
Themer by MyColorScreen
Some people love to customize the hell out of their devices and they would probably love what Themer can do for them. Unlike other launchers, with fixed positions for some elements, Themer lets you place, orient, skew, and do whatever you like with clocks, icons, text, and whatnot. This makes for a pretty darn customizable homescreen. But more than the capability itself, what makes Themer quite notable is the hundreds of themes available for it and the community that has sprung up around them. Beyond the themes that are in MyColorScreen's official catalog, there are equally numerous ones flying around the Internet, being shared by fans and users sharing the same tastes and interests and easily installable on any device with a file manager app. One drawback of all that flexibility and freedom, however, is that not all themes might work as advertised. Good thing that Themer doesn't cost a cent then.
ZEN Launcher
Going to the other extreme, we find ZEN Launcher. Simple, direct, no frills, no nonsense, ZEN Launcher has just enough to let you use your smartphone without features getting in your way. Sounds boring? Maybe. But one thing you won't complain about ZEN Launcher is speed and weight. This launcher's call to fame is its size, which just goes under 1 MB, more or less, making it the most lightweight among any Android launcher in the market while remaining functional. That said, a few new features were added to the launcher since it first launched, like smart app suggestions and, somewhat uniquely, reminders about your health. This launcher really does try to promote zen, both for your phone and for your body. ZEN Launcher is also light on the pocket, costing nothing and hiding no IAPs.
WP Launcher, formerly Launcher 8
Sacrilege? You shouldn't be surprised that, even among the Android faithful, there would be some who find something to like in some of Microsoft's products. Just search for "windows phone" or "windows 8" in Google Play Store to see for yourself. Among the dozen replicas available on Android, WP Launcher is, perhaps, the most reliable and functional one among the lot. You've got tiles and, when possible, even Live Tiles. It even has transparency for tiles even before Windows 10 Mobile gets that officially. You can even pin widgets to some extent, though you can imagine that the tile shapes might not mesh well with some widgets. Plus, widgets with scrolling lists don't work well with the launcher's own gestures. WP Launcher, however, goes beyond mere imitation, letting users theme their screens beyond anything that Windows Phone, or even Windows 10, can allow. WP Launcher comes in a free flavor and a paid Pro flavor, though the latter has lagged behind a bit on updates.
Z Launcher by Nokia
OK, this one made a few runs in the media, but the idea of Nokia, the part not owned by Microsoft, making an Android launcher still feels so unusual that it deserves mention. It helps that the launcher is actually usable as well. Unlike most launchers, Z Launcher doesn't give you a grid of icons to use. Instead, you have a somewhat clean home screen with a clock and a list, yes a list, of most used apps, adapting to your usage behavior and the context. Yes, there's a factor of learning there. But Z Launcher's special trick is that it lets you scribble on the screen right then and there to search for the app or even contacts, with results arranged according to frequency of use and not simple alphabetical order. You can keep on scribbling to narrow down the search even further. Nokia recently added the ability to add Android widgets, putting Z Launcher on par with other apps. While Z Launcher is free, it is still in beta and its distribution is quite limited. Getting into the beta, however, is easy and also free.
b2gdroid, a.k.a. Firefox OS on Android
This one is another unexpected surprise and also new and fresh. Probably too new. b2gdroid is an experiment to bring Firefox OS to Android users without requiring them to flash or multiboot their devices. The result? A new and rather strange launcher for Android. b2gdroid tries to let you feel what it would be like to use Firefox OS, starting from the launcher. But more than just that, it also brings some of Firefox OS web apps into your phone like a Messaging app, a Calendar, etc. Without technically installing them on your phone, of course. This is an almost smart tactic by Mozilla developers to let users get a test of what webapps, written like mobile apps, can do. There is also the focus on search, of course, given Mozilla's web browser business. The catch? It is so experimental that it runs rather slowly and crashes quite often, marring the experience that the launcher is trying to deliver.
Wrap-up
There are dozens, if not hundreds, of Android launchers out there, whether on Google Play Store or elsewhere. While you need not change what you're already used to, it might sometimes be educational to wander about a bit to see what's available. Who knows? With that many choices available, you might meet one that almost seems specifically designed with you in mind.