In a crowded wearable market, Fitbit reigns supreme. In Q1 2014, research firm Canalys says Fitbit occupied 50% of overall shipments, leaving the rest of the market searching for a foothold. When it came to smartwatches, though, another tried-and-true leader in Pebble is outshining the rest.

Canalys notes that in the same timeframe, Pebble shipment comprised 35% of the wearable segment. Sony, with their still-great Smartwatch and Smartwatch 2 duo, captured second place with 29% of the market. Samsung, with their increasingly exhaustive list of devices, sits at third with 23% of the shipments. The rest of the field was left to fight for 13% of the market.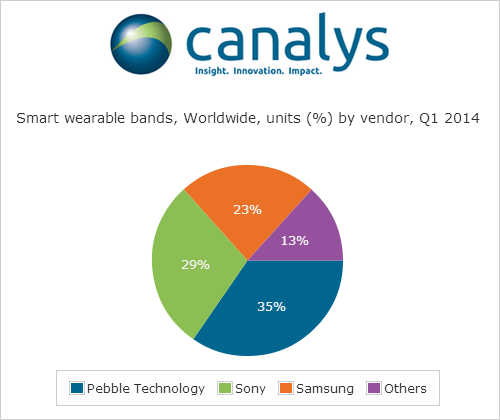 With the fitness wearable segment, Nike still held on with 10% of shipments. Their place will diminish naturally as they exhaust current stock and bow out of the market entirely. The company will instead focus on software, which was the attraction to their bulky band in the first place.
The wearable market, though a bit fresh, is preparing for bigger players to enter the realm. As Android Wear comes to fruition and fitness wearables like the JayBird Reign make their way to the fold, we'll likely see some disturbance to these numbers. There is also the alleged iWatch to look out for, but we've yet to hear much on that front.
Source: Canalys
Via: Mashable