First Stranger Things season 4 teaser takes us to Russia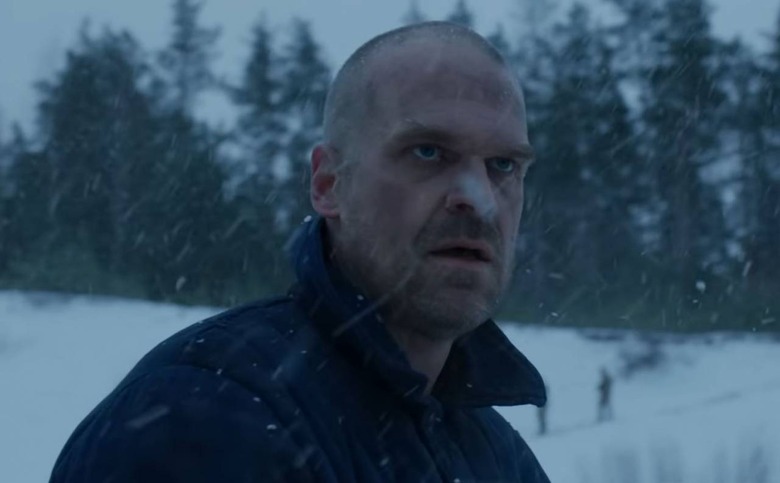 Netflix has a pretty big Valentine's Day gift for Stranger Things fans, today delivering the first teaser trailer for season 4. The trailer actually takes us to Russia, where we see a group of prisoners constructing a railway. Among those prisoners is a familiar face: Jim Hopper.
Hopper, of course, was presumed dead at the end of season 3, but as many fans speculated, he's still alive. Perhaps it's too much of a stretch to say that Hopper is "alive and well" given his current predicament, but in any case, his story isn't over just yet.
"We're excited to officially confirm that production on Stranger Things 4 is now underway — and even more excited to announce the return of Hopper," Matt and Ross Duffer – the creative pair behind Stranger Things – said in a statement to The Hollywood Reporter.
The pair also painted a rather grim picture for Hopper. "It's not all good news for our 'American.' He is imprisoned far from home in the snowy wasteland of Kamchatka, where he will face dangers both human... and other. Meanwhile, back in the states, a new horror is beginning to surface, something long buried, something that connects everything..."
They go on to say that Stranger Things season 4 will be the "biggest and most frightening season yet," and ask everyone to "pray for the American." Unfortunately, we don't have a premiere date for Stranger Things season 4 yet, and given the Duffer Brothers' statement today, such an announcement is probably a long way off. We'll undoubtedly get more trailers and reveals before a premiere date is announced, so stay tuned for those.