First Stardew Valley version 1.4 details surface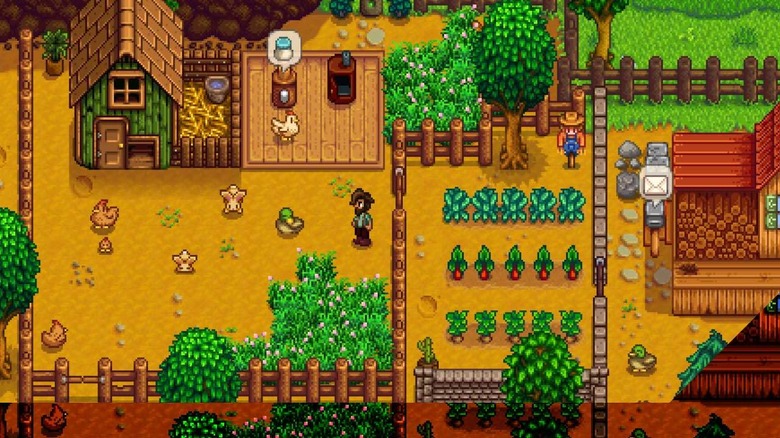 Despite the fact that we're now more than three years out from release, Stardew Valley is still going strong. Earlier this year, the game finally made its way to Android, meaning that it's now available on every modern platform out there. Last year, starting with PC and then Nintendo Switch, Stardew Valley developer Eric "ConcernedApe" Barone started releasing the game's version 1.3 update, which among other things added multiplayer functionality.
Though work continues on version 1.3 for other platforms – specifically Xbox One and PlayStation 4 – Barone has given us an early look at what's coming along in the game's version 1.4 update. In a post to Twitter, he shared an image that shows a portion of the game's new Four Corners map, which is made with multiplayer in mind (but can also be played in single player).
Hey everyone, just wanted to share this screenshot from the upcoming 1.4 update! It's a big one, & this image only reveals a fraction of what's coming. Featured here is a new farm map called Four Corners that's perfect for the much requested "separate money" option in multiplayer pic.twitter.com/wwI1nHWpvX

— ConcernedApe (@ConcernedApe) April 27, 2019
He also said that version 1.4 will allow players to split money, which means that money will no longer go into a shared pool as it does in 1.3 (unless, of course, players want to share money). Barone says that the Four Corners map was made with that "separate money" option in mind, so it sounds like the map will be split into four sections that can be worked by each individual player in a multiplayer game.
Barone elaborates in the replies to that original post, noting that players with existing saves will be able to split their money by heading to the mayor's house. He also says that other aspects of progression will continue to be shared between players, including progression through the mines and in the community center.
Stardew Valley version 1.4 was first confirmed by Barone back in December, but these are the first details we've received about the patch. PS4 and Xbox One players are still waiting on version 1.3, but Barone says that those patches should be coming around the bend at some point in May. Version 1.4, meanwhile, hasn't been given a release date yet, but we'll be keeping an ear to the ground for more.