First of five spacewalks to upgrade ISS power completed.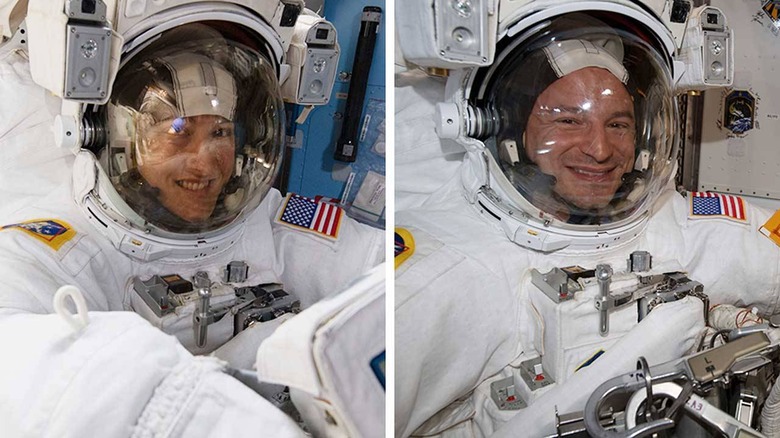 NASA has announced that members of Expedition 61 aboard the ISS have completed the first of five scheduled spacewalks to upgrade the power abord the space station. Flight Engineers Christina Koch and Andrew Morgan of NASA conducted their spacewalk at 2:40 p.m. EDT on September 6. The spacewalk lasted 7 hours and one minute.
The pair of astronauts began to replace the nickel-hydrogen batteries with newer and more powerful lithium-ion batteries. The battery replacement work is being conducted on the far end of the space station port truss. The astronauts were able to get a bit ahead for the next spacewalk have received approval to remove an additional nickel-hydrogen battery.
NASA notes that the new batteries provide improved power capacity for operations with lighter mass and smaller volume than the old batteries. The next spacewalk for Morgan and Koch is scheduled for October 11. That walk will see the two head out to replace batteries on two of the power channels for the ISS's far port truss.
This 3D animation highlights the tasks taking place during today's spacewalk to swap batteries on the station's Port-6 truss structure. #AskNASA | https://t.co/yuOTrZ4Jut pic.twitter.com/EWlfc20ZLZ

— International Space Station (@Space_Station) October 6, 2019
After that walk, the next spacewalks for battery upgrades are set for October 16, 21, and 25. After the battery swap spacewalks are complete, the second half of the spacewalk sequence will focus on repairing the Alpha Magnetic Spectrometer (AMS). The exact dates are still under discussion, but they are expected to start in November.
AMS has been in operation more than its original 3-year life span, and components are showing wear. The Silicon Tracker, in particular, has shown degradation. NASA says that ISS crew members have conducted 219 spacewalks in support of assembly and maintenance of the station. The spacewalkers have spent a total of 57 days, 6 hours, and 27 minutes outside the station.