First glimpse of Olympic laptop from Lenovo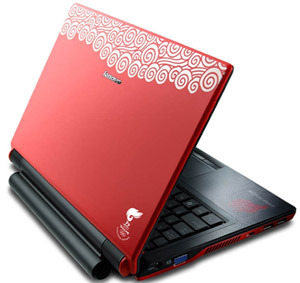 Yesterday we brought you news that Lenovo had their design selected to become the next Olympic torch. Lenovo then said that they would likely introduce a PC to go along with the "Cloud of Promise" theme.
Today we see the first pictures of such a PC. The Xiang PC sports the same design on the back as is found on the torch. You'll also see in the corner what appears to be an Olympic logo.
Other than this picture we don't have much information on the Xiang. We do know that the name comes from a partnership with gold medalist Liu Xiang. I'm sure that Lenovo will release more information on this laptop as we edge closer to the 2008 Olympic games in Beijing.
Lenovo Presents Xiang, the Olympic Notebook [via coolestgadgets]