First-ever Humble Music Bundle launches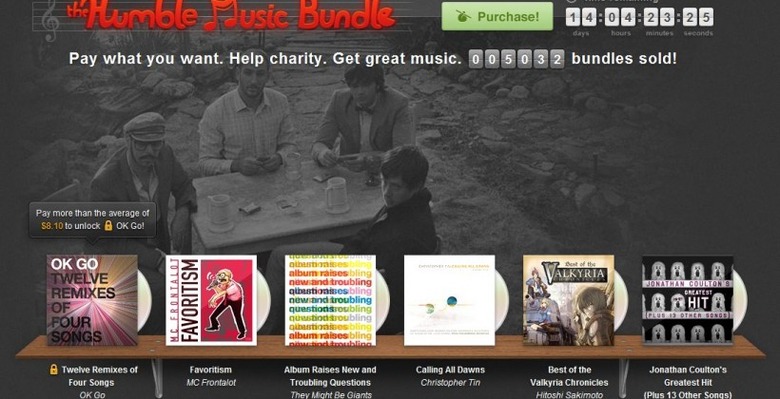 The Humble Bundle folks are back with a new bundle, but this time around, they aren't offering any games. The first-ever Humble Music Bundle launched earlier today, offering prospective buyers the chance to name their own price for six albums related to video games and nerd culture in general. Other than that, the idea is generally the same, with buyers still getting bonuses for paying more than the average amount and still able to customize where their money goes.
The albums included in this bundle are Favortism by MC Frontalot, Album Raises New and Troubling Questions by They Might Be Giants, Calling All Dawns by Christopher Tin, Best of Valkyria Chronicles by Hitoshi Sakimoto, and Jonathan Coulton's Greatest Hit (Plus 13 Other Songs) by Jonathan Coulton (obviously). Those who pay more than the average – which at the time of this writing sits at $8.10 – will get OK Go's Twelve Remixes of Four Songs included as a bonus. The trailer below features a short sample of a song from each album, along with a special message from Christoper Tin himself. Check it out:
The albums are available in either FLAC or MP3 format, and like previous Humble Bundles, all come DRM-free. As always, a customizable portion or your purchase amount benefits the Child's Play charity and the Electronic Frontier Foundation, so even though you get to name your own price for the bundle, don't skimp! All in all, it sounds like there's an excellent range of music available here, so if you aren't turned off by the idea of a game-free Humble Bundle, then we suggest you check it out. Just like past Humble Bundles, we're expecting more bonuses to be added later on in the promotion. Stay tuned for more details!