First 3D-printed motorcycle built by Airbus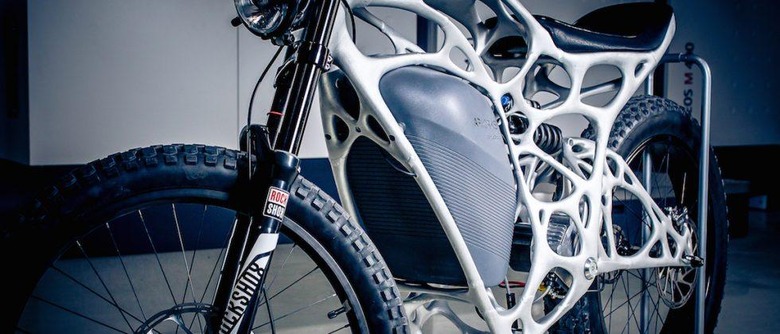 We're seeing 3D-printed versions of just about everything these days, from shoes and robots to even working cars, and now it's the electric motorcycle's turn. APWorks, a subsidiary of airplane-maker Airbus, has produced what it says is the world's first 3D-printed motorcycle, complete with a total weight of just 35 kg (77 pounds). They've even come up with a fitting name for it: the Light Rider. How clever.
APWorks says the Light Rider's frame is built from its own Scalmalloy material, and by itself weighs only 6 kg (13 lbs), in addition to a 6 kW electric motor that powers it. This all helps to make the bike 30% lighter than the typical e-motorcycle.
The motorcycle's frame is described as looking more like an "organic exoskeleton" than a piece of machinery. This is the result of APWorks' algorithms that determined the best structure reducing weight, while at the same time remaining strong enough to support an adult rider during everyday driving scenarios. The company had an intentional design goal of using bionic structures and natural growth patterns when programming its algorithms.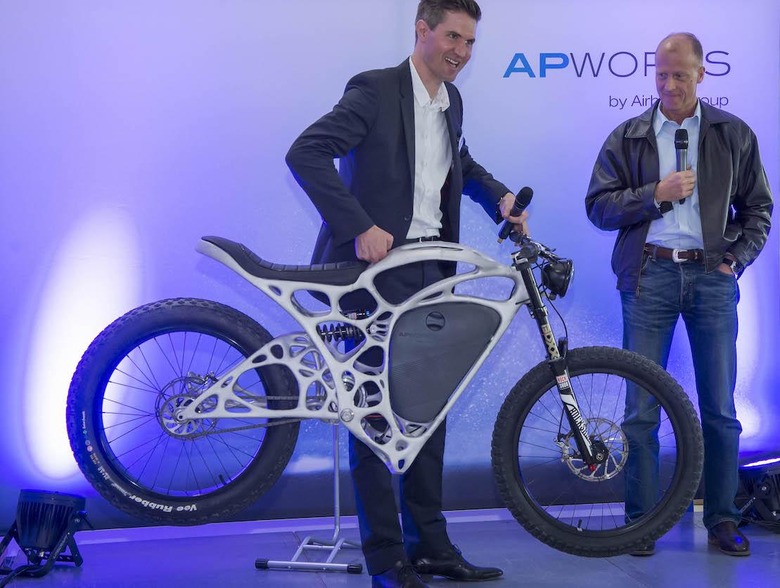 As for the 3D-printing process, APWorks says each part was made with a 3D laser printing system that's capable of melting millions of aluminum alloy particles together. Parts of the frame are also hollow, allowing cables and pipes to be run through them, another aspect that contributes to the weight reduction.
Scalmalloy, APWorks' own proprietary material, is described as a corrosion-resistant aluminum alloy that's just as strong as titanium. The material was developed for use in additive layer manufacturing, bringing those benefits to the metallic 3D printing process.
SOURCE Airbus