Fireside Audiobox pulses fire to the beat of your music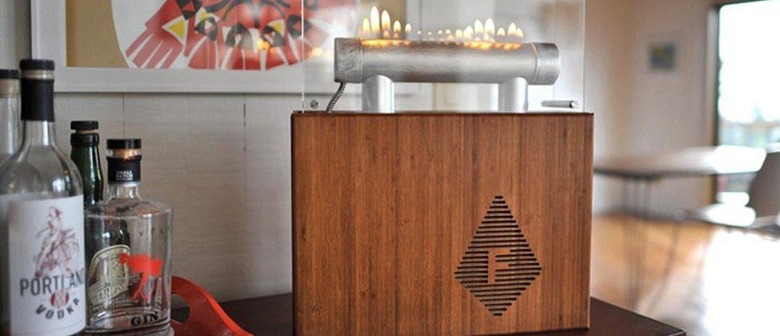 Mixing together the primitive and modern is a new Bluetooth speaker that pulses flames to the beat of whatever music you're playing. Called Fireside Audiobox, the speaker is battery-powered and uses propane to fuel the flames; combined together, you get all the functionality of a portable wire-free speaker coupled with the classic beautify of an open flame. It's like lighting candles and playing music, only better.
The Fireside Audiobox is a wood speaker with a semi-sealed upper portion and a small propane assembly in the top. The speaker holds a 16.4oz canister of propane, which will last about 8 hours before needing refilled. The speaker itself is powered by a Li-po battery with an 8-hour run time. The unit measures 19.5 x 14 x 4.5-inches (H x W x D).
Audio connectivity is via Bluetooth. The audio waves produced by the music are mapped to the length of the aluminum tube from which the fire is produced. When a particularly forceful or notable element plays, the flames dance in response.
The Fireside Audiobox was posted on Kickstarter recently by Grey Street Design, which is seeking $35,000 USD in funding with 14 days remaining in the campaign. A pledge of $349 USD gets backers the early bird special Fireside Audiobox in bamboo with either a natural or dark stain. The company anticipates the speakers shipping to backers in April 2017, though as with any crowdfunding campaign, that's liable to change.
SOURCE: Kickstarter