Firefox goes touch-friendly for Windows 8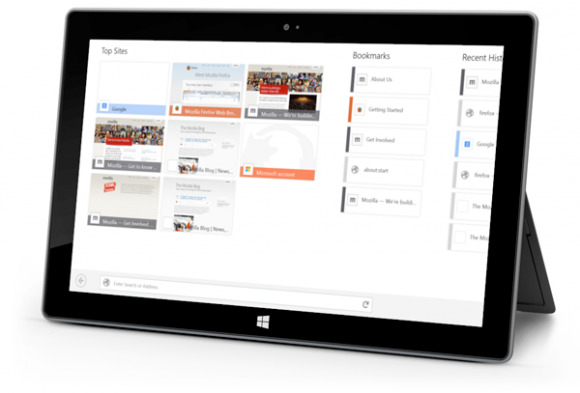 Mozilla has recently put out a call for those willing and able to test a preview build of Firefox. This build is designed for Windows 8 tablets and is touch-friendly and sporting what is described as being a tile-based Firefox Start Experience. And in addition, this build of Firefox is offering support for Windows 8 touch and swipe gestures as well as Snapped and Fill views.
Mozilla has also said those moving forward in the testing phase can expect support for Firefox Sync and Windows Share integration. This version of Firefox uses the same Gecko rending engine as the desktop version and there is also support for WebGL and asm.js, which is said to supercharge JavaScript in the browser. Basically, that means developers will be able to port high-performance C++ games to the web.
That all being said, while some of the features and support are the same, Mozilla has said this version of the browser has been "designed and coded from the ground up." Or in other words, this one has been built specifically for Windows 8. The beta is available for those looking to play and it looks like the next phase of development will bring focus on improving performance and responsiveness.
As with any beta release, users may have some issues. Mozilla has made it clear that this is "still a preview" and as such, "there are some bugs." On the flip side though, it was also said that "most of the features are very near complete." Some of the missing items include the lack of ability to share bookmarks, history and passwords with the desktop version out of the box. Of course, that is where Firefox Sync comes in.
VIA: GigaOm
SOURCE: Mozilla