Firefox for iPad gets split screen support, tab tiles, and more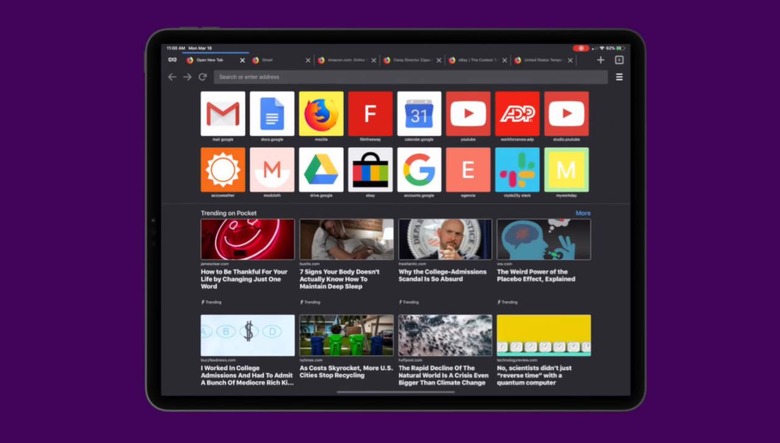 Mozilla has revealed a new version of Firefox for iOS that enables iPad owners to better control their browsing experience. The new version brings support for a number of features, including split screen, and improves convenience in other areas, such as offering one-click access to Private Browsing mode. As part of its announcement, Mozilla acknowledged that "iPads aren't just bigger versions of iPhones."
The new Firefox for iPad product brings improvements that make it "look and feel like it was custom made for a tablet," according to Mozilla, which has paid special attention to the unique ways people use the iPad in contrast to the iPhone. The software brings support for split screen, which enables two apps to be placed side-by-side.
In addition, the new Firefox for iPad update improves the tab experience with a new tile-based tab management system. Each new tab opened is displayed as a tile, making it easier to see what pages are open with a quick glance.
As mentioned, the software also cuts down on the number of taps required to open a Private Browsing tab. Whereas before users were required to tap multiple times, the new browser version offers Private Browsing Mode in the lower left corner of the browser window where it can be launched with a single tap.
Other changes include keyboard shortcuts for power users who connect a keyboard to their iPad. In this case, users will find that many of the Firefox shortcuts they already use on their Mac are supported by the new Firefox for iPad browser, including things like Command + F to find a word and Command + R to reload a page.
Finally, the updated Firefox for iPad product allows Microsoft Outlook users to set Mozilla's app as their preferred/default Internet browser, and also enables users to directly send a Web page between devices without leaving Firefox. Users will need a Firefox account to use the latter feature, however.
iPad owners can download the new Firefox for iPad browser from the App Store now.