FingerKey app uses iPhone's Touch ID to unlock your Mac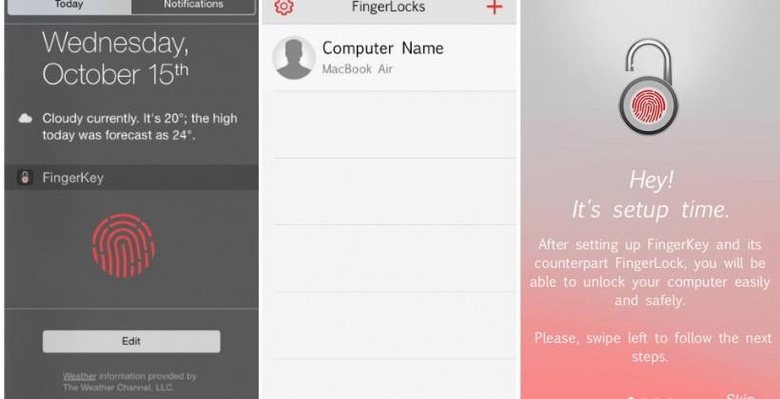 I'm calling it right now: I predict within a few years (let's say around the "iPhone 7's" release) that Apple will have a native solution for unlocking your Mac using your iPhone/iPad's Touch ID sensor. I'm basing this on Apple expanding the use of Touch ID through Apple Pay and opening it to developers, as well as the new Continuity features that OS X and iOS to work near-seamlessly together. But, until then, a non-native solution is already here in the app FingerKey for iPhone.
FingerKey allows Mac users to unlock their computer with any Touch ID-compatible iPhone, meaning the 5S, 6, or 6 Plus. It's not clear, however, if it also works on the new iPad models with Touch ID sensors. The app costs $1.99 on the iOS App Store, and to work will require FingerLock, available for free at the developer's website, to be installed on your Mac. The other requirement is that the Mac needs to be Bluetooth-LE capable.
The iPhone app features a Notification Center widget for quick access to the unlock prompt, and offers 256-bit AES encryption when transferring data between computer and phone. You can pair FingerKey to unlock multiple Macs at once, and unlocking can be done from a distance, as long a Bluetooth connection can be made.
Developer Leandro Luizari states compatibility with PCs running Windows or Linux is coming in a future update, as well as the ability to use a drawing or connect the dots pattern to unlock instead of a fingerprint. This may also allow the app to work on non-Touch ID iPhones, particularly noting how the developer's description on the App Store, under Compatibility, says that the "iPhone 4S onwards" is compatible.
VIA BGR
SOURCE FingerKey app