Find My Car Smart for iPhone hits Kickstarter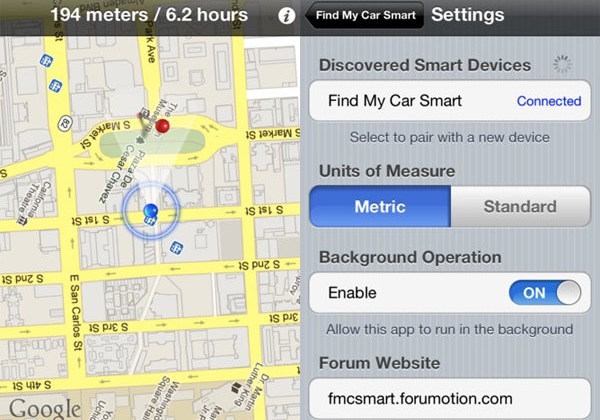 The latest version of Bluetooth is 4.0 or Bluetooth Low Energy. This allows Bluetooth connectivity with a lot less power drain. The first app to take advantage of BT 4.0 is up on Kickstarter seeking the money for the hardware component to launch. The app and hardware is a kit called Find my Car Smart. The app is already on the App Store for 99 cents reports MacRumors.
The idea is that the app and hardware combo will help you to find your car when you park it without any issues. Using the USB BT 4.0 dongle that is the hardware part of the kit and the app, you can find where your car is, how far you are from it, and how long you have been parked there. The system was seeking $10,000 in funding to create the hardware portion and get it to market.
It still has 25 days to go and already has raised $18,712. The app is already available, but it won't work without the hardware portion. For $25, you get the Find My Car Smart Device and the app. If you plunk down $30 you get the hardware device, app, and a USB charger for the hardware dongle for your car. The first 500 of the devices is supposed to ship in January.
[via MacRumors]