Final Fantasy XV gets an anime spinoff, movie, new trailer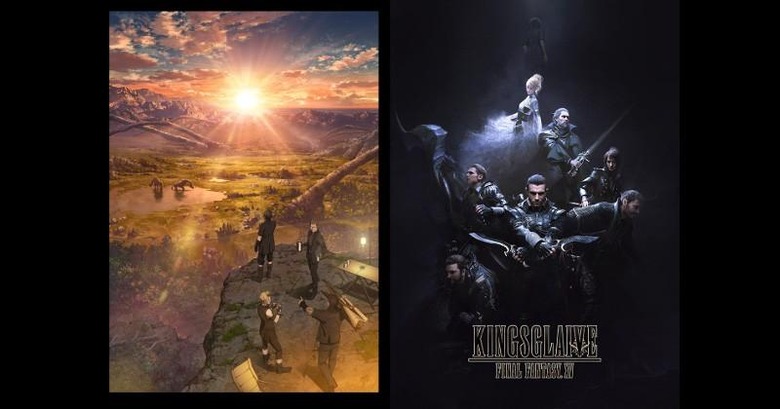 Final Fantasy XV is a big, nay a huge, thing for Square Enix. It is the biggest non-MMORPG installment of the game since "Lightning Returns: Final Fantasy XIII" in 2013 (which, to be precise, is simply a sequel to the 2009 Final Fantasy XIII). It will also be a major departure from previous titles in terms of gameplay and combat. You know that it's really a big deal for the company when, in addition to announcing the launch date and a new trailer with a poignant cover, Square Enix is revealing a whole "universe" around it, including a prequel anime series, a full-length CG film, and even a mobile game spinoff.
Brotherhood: Final Fantasy XV is a five-episode 10 minute anime spinoff that tells the tale of crown prince Noctis and his three companions. Or to be more exact, it recounts the adventures and misadventures that formed the bond between them. The mini series sets the stage for main game itself. The best thing about this series is that it will be made available for free and for all on YouTube. In fact, the first episode is already available online. Hit the video below for the trailer.
If a more dramatic almost photorealistic treatment is more to your taste, then Kingslaive: Final Fantasy XV might feel made just for you. The full-lenth completely CG movie, from the very same people behind the renowned fan service Final Fantasy: Advent Children film, will focus on events from the perspective of Noctis' father, King Regis. The events in the movie will supposedly be parallel to the game's timeline. Meaning while his son goes on a roadtrip with friends, old Regis is left fending for his life and the kingdom. The film will feature the voice talents of Aaron Paul from Breaking Bad, Lena Headey from Game of Thrones and Sarah Connor Chronicles, and Sean Bean, who has seen too many movie deaths to count. Kingsglaive with be distributed globally when Final Fantasy XV itself launches in September, though Square Enix left out details on how to get it.
If that hasn't whet your appetite enough, Square Enix is also launching a demo of Final Fantasy XV. Don't worry about spoilers though, as the game takes place in a completely different but related world, Noctis' fragmented dreamscape. Players will be able to control the very young prince, guided by Carbuncle. Those who do complete the demo will gain a special Carbuncle summon DLC when the real game launches in September.
Final Fantasy XV is slated to launch on September 30 this year and pre-orders are available for Xbox One and PlayStation. To celebrate the start of that period, Square Enix is releasing a new trailer for the game, showing completely new, epic in-game footage. But more than just the new scenes and never before heard soundtrack from composer Yoko Shimomura, the trailer also features the special cover of the iconic song "Stand By Me". This version of the song was performed by Grammy-nominated Florence and the Machine. Although almost a strange pairing, considering the fast, action-paced rhythm of the game, the song does call attention to the four protagonists' friendship and their journey together.
But wait, there's more! Mobile gamers aren't going to be left out of the deal. Although they won't be able to play the game on their smartphone, naturally, they can at least get an appetizer with the Justice Monsters Five mobile game for Android, iOS, and even Windows 10. The game is supposedly a mobile version of Noctis' favorite pinball game, which FF XV players can also play in-game in September, so it ties in to the main game's mythos at least. The mobile game will also launch soon, though no date has be given yet.
SOURCE: Square Enix