Film Editor Uses Apple's Final Cut Studio to Edit 70 Hours of Movie Footage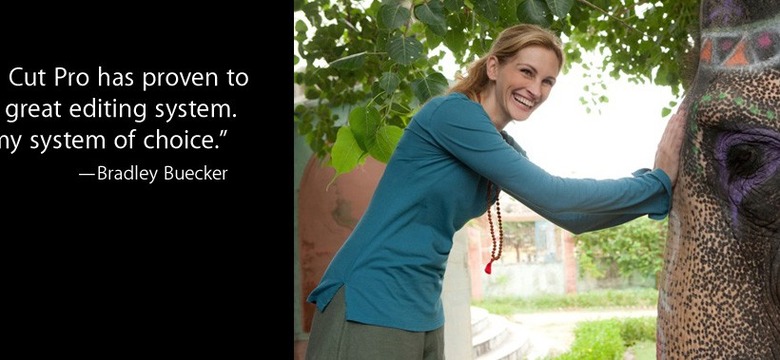 For film editors, there may not be a lot of choices out there to get the job done. Hollywood more than likely has a standard that's to be used, film to film, and there's probably no reason for any rogue editor out there to do their own thing. Unless, of course, you've got no choice. For first time feature film editor Bradley Buecker, the film production of Eat, Pray, Love, was all over the place (or, all over the globe, to be more accurate), and caused several more steps to be used. The best step, according to Buecker, though, was the usage of Final Cut Studio.
Buecker and his team weren't necessarily forced to use Final Cut Studio, the software made available by Apple, but he's definitely going to be using it from this point onward. "Final Cut Pro has proven to be a great editing system. It's my system of choice." That's directly from Buecker, who used Final Cut to trim down (not literally) 422,000 feet of film, and edit roughly 70 hours of footage. Obviously you don't want to be watching a 70-hour long movie, so that's where the whole "editing" thing comes into play.
According to Buecker, they didn't just use Final Cut for one thing here, and another thing there. It quickly became apparent to him and his team that utilizing the editing software, throughout the whole process, would just be their best bet. For sound, before they had to deliver parts of the film to the "sound guys," they used Compressor. And through the whole process, QuickTime played a huge role in the whole thing. They even managed to find a way to make Apple's new version of their ProRes codec useful. By organizing and transcoding the film from ProRes 422 (HQ) to ProRes 422 (Proxy), they were able to easily put the files into bins, and then subsequently prepare the material for further edits.
Other neat features include background exporting, which is new in this version of Final Cut, which allowed Buecker to continue to edit film, while he was compressing the film. So, if you find yourself going to see Eat, Pray, Love this weekend, or any time at all, and you happen to think that the film was put together particularly well, remember that the whole thing was edited on Apple's Final Cut Studio. Pretty impressive indeed.
[via Apple]