Fifth-gen Getac B300 notebook gets Haswell power and multicarrier 4G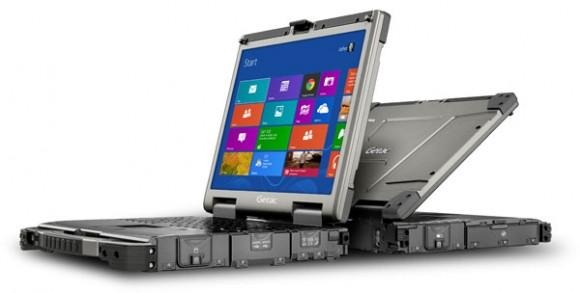 Getac is a computer maker that makes some of the most rugged computers on the market. The company has announced the fifth-generation of its popular B300 ultra rugged notebook computer and the machine has a number of upgraded features and specifications. The B300 now has Intel Haswell processors and new graphics.
Buyers can choose from a fourth-generation Intel Core i5-4300M 2.6 GHz processor or an i7-4600M 2.9GHz processor. Both of those processors use Intel Turbo Boost Technology allowing for maximum clock speed of 3.3 GHz and 3.6 GHz respectively.
The fifth-generation B300 also gets significantly more powerful graphics with new Intel HD 4600 graphics supporting DirectX 11.1 and other features. The notebook also now has built-in multicarrier 4G LTE connectivity using a single chip. Having a single chip support multi-carriers means that users can choose the best carrier for the area they are working in.
The B300 also gets upgraded wireless connectivity with support for 802.11ac and Bluetooth 4.0. The display is a 13.3-inch QuadraClear 1400 nit sunlight readable unit. Getac also promises that with the optional dual battery system the B300 is good for up to 30 hours of runtime. The machine also features integrated GPS, USB 3.0, eSATA connectivity and meets military standards for ruggedness. The computer is available now at an undisclosed price.
SOURCE: Getac