FIFA 18 on Nintendo Switch lets you kick off anytime, anywhere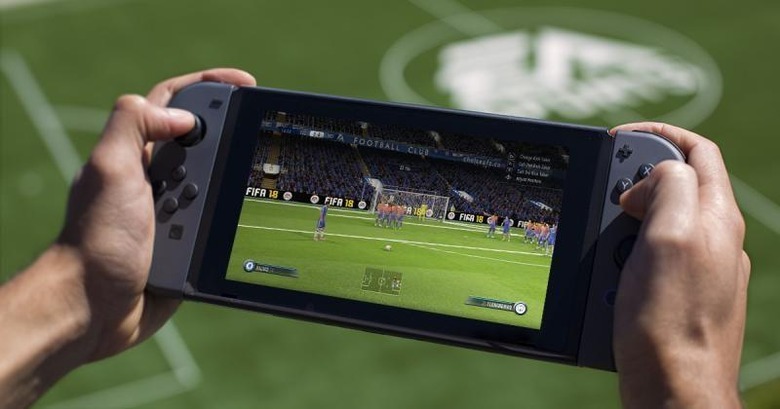 At E3 2017, almost all eyes are on Microsoft's flood of juicy announcements surrounding the Xbox platform, including the Xbox One X and the new exhaustive backwards compatibility catalog. That, however, doesn't mean that other companies are slacking off. Nintendo and EA Sports, for example, has just revealed more details about the hit football (soccer for some) franchise FIFA 18 that will be making its way to the Nintendo Switch, letting players decide exactly when, where, and with whom they want to play it.
FIFA is perhaps one of the most popular football/soccer games revolving around the sport, the other two being Football Manager and PES (Pro Evolution Soccer). Compared to the other two, FIFA has modes for both actually playing the sport like any other sports ame as well as creating and building up teams via Manager and Career modes. And with the upcoming Switch availability, you can also decide exactly just how you want to play it.
Playing at home? Just kick back and relax and dock the Switch to enjoy the full 1080p resolution it can offer. Itching to kick things while on the go? The 720p handheld mode might satisfy the urge. Either way, you're promised to enjoy convincing 3D environments thanks to the new physically based rendering (PBR) engine.
And it isn't just the way the game looks either. On the Nintendo Switch, FIFA 18 supports the full range of possibilities that the console's controllers offer. Be it playing like a handheld, using two Joy-cons or even just using one Joy-con. With local multiplayer, two Switch users can face off in a Local Season.
EA SPORTS FIFA 18 on the Nintendo Switch offers a variety of Ultimate Team features, including Squad Building Challenges, Online and Offline Seasons, Transfer Market, and more to be revealed. The game lands on the Switch globally starting 29th September.