Feeling Naughty? Motorola Atrix Gets Naked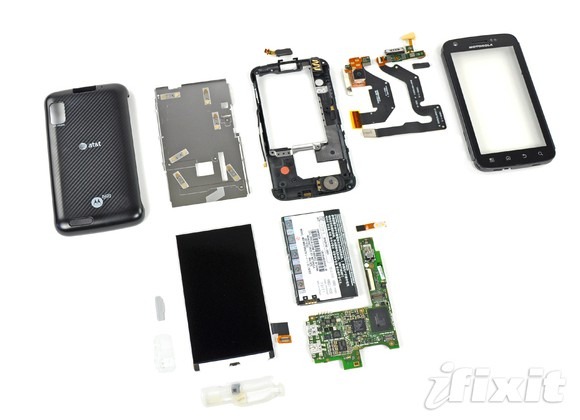 Who out there is in the mood for some gadget fetishism? That's basically what the folks at iFixIt offer, with their regular and ruthlessly thorough teardowns of hot new gadgets. They recently cut into a Motorola Atrix, and what they found inside was glorious. While the Atrix is no prom queen on the outside, inside she is a masterpiece of elegance. There is nothing extraneous, just neat interlocking pieces that fold together in a tight – almost light- package.
At the end of the teardown, iFixit put together a few comments. They noted that the phone "feels solid in the hand" but jabbed the rear panel for feeling "chintzy". Two large ribbon cables soldered to several components were listed as the main barrier to a detailed excavation. The LCD is a separate piece from the front panel, which means you can replace either without replacing both.
iFixit is totally right about the "chintzy" feeling back. I've had several opportunities to play with an Atrix, and every time the rear panel bugged me. How Motorola could have such an ugly oversight on their flagship smartphone is a mystery.
[Via iFixit]