Feedly Pro arrives with search, Evernote support, and more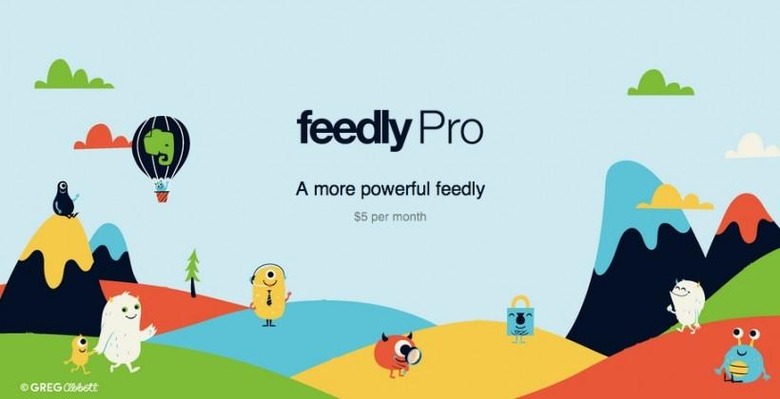 As with many free services, there's often a paid option to along with them that offers a handful of new features and benefits that aren't available otherwise to the free users. Feedly has so far offered a free version of its RSS reader, but today the company has unwrapped a paid version that gives users several new features for just a few dollars per month.
Feedly Pro, as it's called, will cost $5 per month, but as a limited time offer, they're giving users the chance to grab a $99 lifetime subscription to the service, but only for the first 5,000 users who do so. Sadly, that's the only option available right now, as the $5/month plan doesn't kick in until later in the fall, so if you want the exclusive features now, you'll have to opt for the one-time $99 payment.
But what new features are you granted with Feedly Pro? You'll be able to search through your feeds to find specific articles that you want to bring back up (something that Google Reader had, but has been frustratingly missing in Feedly). There's also https support so that you can browse through your feeds securely, and there's also Evernote support, which will let you save an article directly to your Evernote account.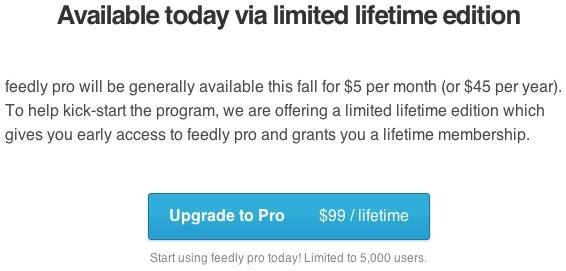 Lastly, having Feedly Pro will bump you up in the support lines, meaning that if you ever have a problem with Feedly, you can send in a support ticket and be bumped to the front of the line for a faster response from the Feedly support team. We're not sure how many folks will take advantage of this feature alone, as going to support with issues is the last thing Feedly users want to do.
So far, that's all the benefits that Feedly Pro members will get. We're not sure if the company will add more in the future, since the offerings seem kind of lacking (especially for some features that came free with Google Reader), but we'd reckon that there are some users who will take advantage of the offer.