FCC approves the OQO Model 02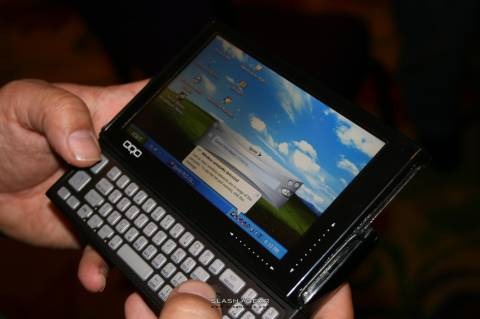 For a second there, I thought OQO already got all the loving it needed from FCC. If you didn't know, don't worry; neither did we.I'm going out on a limb and make the claim that the Model 02 is possibly every bloggers best friend. Why? It's easily the smallest Windows Vista capable portable computer on the market, featuring WiFi, Ethernet, Bluetooth, WWAN, a rugged chassis made of magnesium alloy, active drop detection technology, all wrapped up in a pretty package no larger than a paperback book. The Model 02 sports a 1.5GHz VIA C7 CPU with integrated graphics, 60GB HDD, 1GB of 533MHz DDR2 SDRAM, and a 5-inch 800x400 resolution LCD. Are you impressed yet?
Anything this small and feature rich isn't going to come cheap. So expect to shell out upwards of $1,800 or more depending on the configuration you want.