FAVI Launches Palm-Size Bluetooth Keyboard With Integrated Track Pad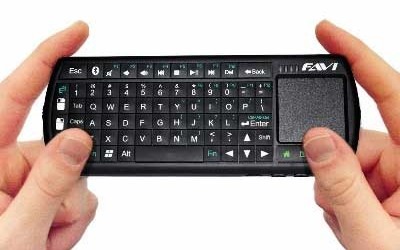 FAVI has unveiled a new and very small keyboard that uses Bluetooth to connect to a bunch of different gadgets that are on the market right now. The company says that the keyboard is designed with familiar Android buttons and is perfect for connecting to your favorite Tablet such as the Kindle Fire and others that support Bluetooth keyboards. The keyboard also has integrated media control keys.
The keyboard is sized to hold in your palm and supports thumb typing. It also has a track pad on the right side allowing you to control a pointer, and it has buttons on the left side for left and right mouse clicks. This might be the perfect HTPC keyboard for connecting to your little Android mini PC that plugs into the HDMI port of your TV, assuming it has integrated Bluetooth.
If you want to use the keyboard with a device that doesn't have integrated Bluetooth, you can still do that thanks to the included USB Bluetooth receiver. The only caveat is that your device has to have a full-sized USB port. FAVI specifically calls out support for the Kindle Fire HD, Google Nexus 7, iPad, Samsung Galaxy, as well as numerous PCs and Mac computers.
The little keyboard features backlit keys for easy use in the dark. The little track pad also supports tap to click and page scrolling. The track pad end of the keyboard has an integrated red laser pointer and the keyboard has PowerPoint slide buttons. The Bluetooth keyboard has a range of 50 feet and is available now for $49.99.