Faux gun hides girly stuff inside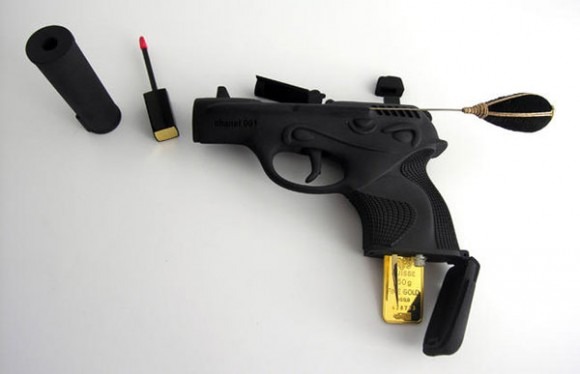 Take a gander at this. This may be the weirdest makeup compact in the history of makeup. The thing looks like a handgun, but instead of bullets the gadget hides all the make up a well to do woman with a handgun fetish would need for a night of dodging the cops or sitting in security at the airport. The device is made by Ted Norton, a Dutch Jewelry designer.
There are two versions with one in white called Dior 001 and the other in black called Channel 001. The Dior 001 version will cost $11,500 and packs inside a Dior lip gloss, antique hairpin, 18K gold toothpick, perfume, and a 50-gram 24K gold bar. It also has a spot for a umm...Viagra pill... and a flash drive.
The other version is the Channel 001 you see here in black. This one is $17,000 and has the same stuff inside with Channel branded cosmetics. You have to go back to the designer's studio to refill the makeup if you need to. The gold bar is the weird thing to me, it's not like in a pinch you can pay the cabbie in gold and get change.
[via BornRich]