Farmville Hacked, Follow-Up To Facebook Hack?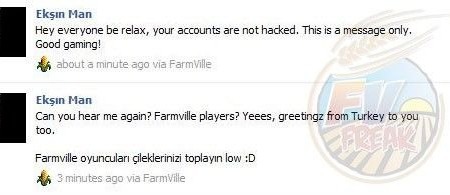 It's been a hard week for Facebook. Earlier this morning we heard that Facebook founder Mark Zuckerberg's profile page was hacked. This followed the hack of French president Nicolas Sarkozy's Facebook page earlier in the week. And now the rash of hacks has finally hit the mass of users. Farmville has been breached.
*dramatic music*
Users all across the Internet have found messages on their walls from a player named Eksin Man. The Eksin Man appears to be able to post on user's walls without having first friended them. His standard spiel goes like this,
""Can you hear me again? FarmVille players? Yeees, greetingz from Turkey to you too. Farmville oyuncuları çileklerinizi toplayın low."
The end string of words translates to gibberish. 51% of players report feeling that Farmville has been hacked. There's been no word on whether these shenanigans bear any connection to the Sarkozy and Zuckerberg hacks, but the writing styles are wildly different. Zuckerberg's profile was hacked to say,
"Let the hacking begin: If facebook needs money, instead of going to the banks, why doesnt Facebook let its users invest in Facebook in a social way? Why not transform Facebook into a social business the way Nobel Price winner Muhammad Yunus described it? http://bit.ly/fs6rT3 What do you think? #hackercup2011,"
So on one hand, we have a hacker who breaks into Mark's account to spread his message of peace, love, and avoiding the stock exchange. On the other hand, we've got some random Turkish dude who does not appear to have an agenda. There's either an exploit floating around, or a Turkish super-hacker/alternative economic theorist.
[Via Games.com]