Famicom Mini is Japan's NES Classic version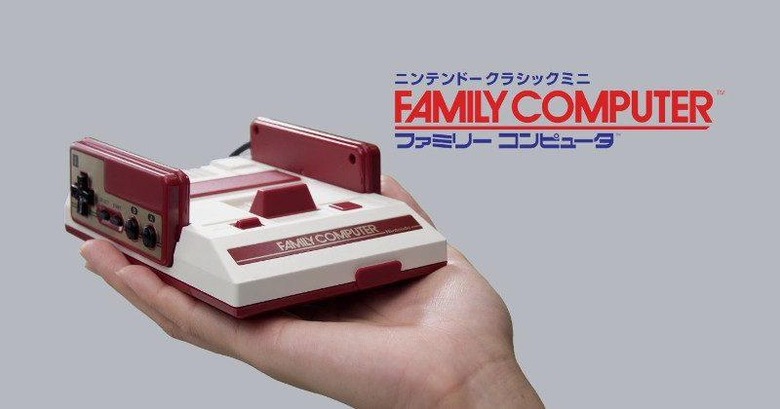 To those unfamiliar with gaming history, Nintendo actually had two very different versions of its "Nintendo Entertainment System", depending on which side of the globe you lived in. In Japan and nearby territories, the company's hit console was called the "Family Computer", lovingly referred to as the "Famicom". In the West, it went by the now standard "NES". So when Nintendo announced the coming arrival of the miniaturized NES Classic, it was only fitting that it would launch a throwback exclusive to its roots. And thus, the Famicom mini was born.
The annals of gaming history is filled with anecdotes and postmortems on why the NES and Famicom looked so different, despite internally being similar (almost) and made by the same company. Long story short, it was decided early on that the US market wouldn't be too welcoming of an eccentric design that almost resembled a spaceship. Instead, Nintendo opted to masquerade the US Famicom less as a gaming machine and more like a Hi-Fi entertainment system. Hence the "E" in "NES".
Of course, that pretty much history and we'll never know what could have happened if Nintendo didn't decide as it did decades ago. But just to emphasize the difference, Nintendo has finally revealed that it does actually have a Famicom version of the NES classic it announced earlier this year. Like the "NES Mini", this one can fit on top of your hand, though not exactly comfortably, with extra small controllers, which might not be comfortable.
And like the NES Classic, the Famicom Mini won't load cartridges. Instead, it comes with 30 games that date all the way back to 1983. Here's the full list:
• Donkey Kong
• Mario Bros.
• Pac-Man
• Excitebike
• Balloon Fight
• Ice Climber
• Galaga
• Yie Ar Kung-Fu
• Super Mario Bros.
• The Legend of Zelda
• Atlantis no Nazo
• Gradius
• Ghosts 'n Goblins
• Solomon's Key
• Metroid
• Castlevania
• Zelda II: The Adventure of Link
• Tsuppari Ozumo
• Super Mario Bros. 3
• Ninja Gaiden
• Mega Man 2
• River City Ransom
• Double Dragon II: The Revenge
• Super Contra
• Final Fantasy III
• Dr. Mario
• Downtown Nekketsu Koushinkyoku: Soreyuke daiundoukai
• Mario Open Golf
• Super Mario USA (the US version of Super Mario Bros. 2)
• Kirby's Adventure
The Famicom Mini launches in Japan November 10 for 5,980 yen ($60), similar to the NES Classic.
VIA: Kotaku