Fallout 4 Nuka-World release date revealed alongside new gameplay trailer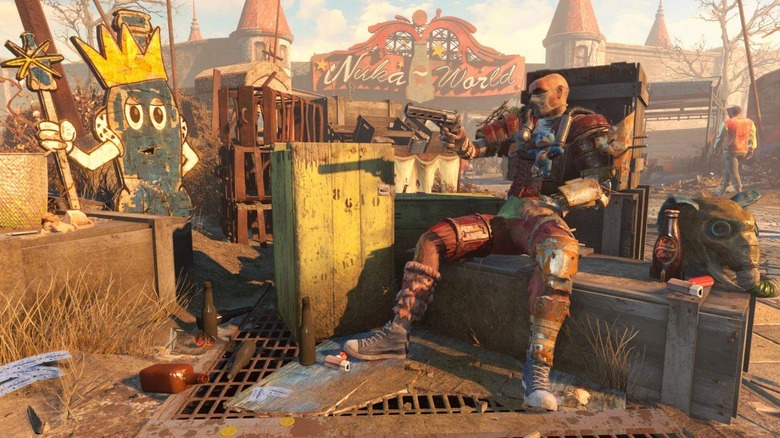 Development on Fallout 4 is set to wrap up with the release of its final DLC pack, Nuka-World, and judging from the add-on's newest gameplay trailer, it would appear that Bethesda is planning to go out with a bang. In fact, as Nuka-World puts players in the middle of their own wasteland theme park, we'll probably be treated to several bings, bangs, and booms as Bethesda gives us its final piece of DLC content.
The trailer shows off some of the new weapons, armor, and creatures you'll encounter as you make your way through Nuka-World, along with some of the building options you'll have available to you, if that's more your speed. The trailer also shows us that Nuka-World will be segmented into different parks, much like the real-life Disney World, with unique zones like the World of Refreshment, the Safari Adventure, Galactic Zone, and Nuka-World USA.
We also have an official release date for Nuka-World, with Bethesda announcing today that it'll be available for Xbox One, PlayStation 4, and PC on August 30. Nuka-World is available as a standalone DLC for $20, though if you purchased the Fallout 4 season pass, you'll get it at no additional cost.
Though this is the sixth Fallout 4 DLC Bethesda has released, it's only the second "expansion" after May's release of Far Harbor. Three of the remaining four have been Workshop packs that give players more building options, while the last one, Automatron, stands alone as something of a mini-expansion, offering players new quest line that allows them to build their own robots. Though this will be the last of the Fallout 4 content players can expect from Bethesda, those on PS4 still have mod support coming down the pipeline, though when that will arrive is really anyone's guess.