Facebook Watch goes global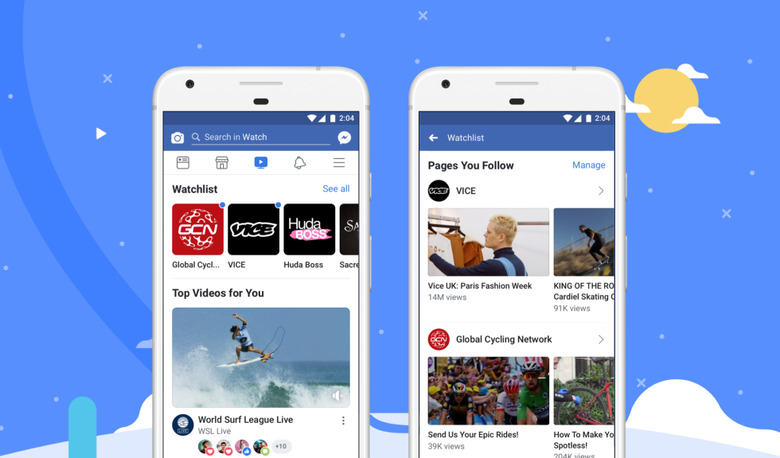 Facebook decided some time ago that it wanted a slice of the video streaming pie, but it took a while for those desires to coalesce into one coherent strategy. Last year, Facebook's dive into video finally started to come together as it began testing a new service called Facebook Watch. Fast forward to today and Facebook Watch is launching around the world.
It's taken a little over a year to get to this point. Facebook Watch launched last August as a small-scale test in the US, and slowly expanded to more and more users over time. Users in other parts of the world were forced to wait while Facebook improved the service, but as of today, it looks like it's finally ready for prime time.
Facebook has used the last year to improve Watch and turn it into more of a YouTube competitor by launching features that play into its strengths as a social network. Users will find a Watch feed that stays up to date with the latest videos, and at the top of that feed you'll find your Watchlist, which is populated by videos published by the pages you follow. You'll also be able to save videos you encounter in your standard News Feed and view them later through Watch.
Just recently, Facebook rolled out a new feature called Watch Parties, which allows Facebook Groups to watch videos together. To hear Facebook explain it, it sounds like Watch Parties are the first step in infusing Watch with more social features, so at some point down the road, it could very well offer a service that's distinctly different from YouTube.
Now that Facebook Watch is launching worldwide, we'll likely see an increased focus on bringing original shows to the platform and tempting content creators over from competitors. To help that along, Facebook has announced that it's expanding Ad Breaks so that more Watch partners can monetize their content. Watch is included in the standard Facebook app for iOS and Android, though you can also find it as a standalone app for devices like Apple TV, Samsung Smart TV, Amazon Fire TV, Android TV, Xbox One, and Oculus TV.