Facebook Timeline pages for locations get recommendations box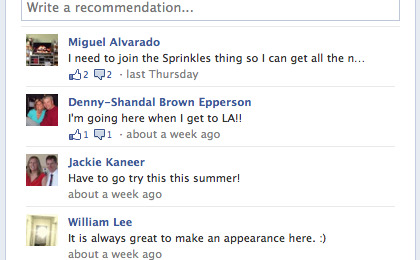 If you're an avid Facebook user who's had Timeline for a while you might remember that older versions of the pages had a recommendations box. The recommendations box showed up on Timeline pages that were about locations. Facebook is now displaying the user recommendations box again so people can write their own recommendations for locations or businesses.
The recommendations box isn't on every Timeline page. It only shows up on pages that have an exact address in the about section. Apparently, on some pages, the recommendations box is offered after the user likes the page, but that doesn't happen all the time. That could indicate that Facebook is testing whether or not automatically offering the recommendations box after liking the page is effective.
Timeline pages are still in flux as Facebook tweaks and changes them. What hasn't changed for the majority of users is how they feel about being forced to use Timeline. People still complain constantly when they're forced to move from the old profile page to Timeline.
[via InsideFacebook]