Facebook testing Windows desktop client for chat and ticker feed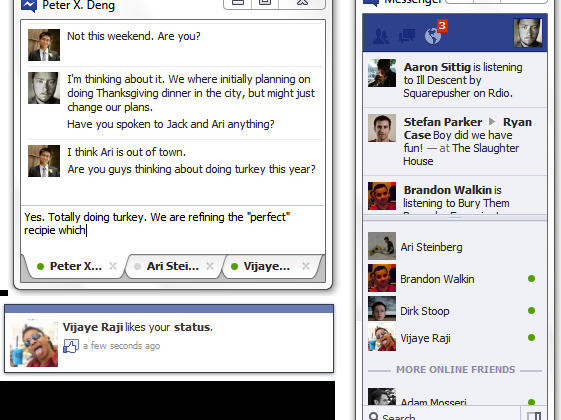 Facebook begun letting a limited group of users to download and try out a new Facebook Messenger for Windows 7 desktop client (much like in the way they started off with their newly-revamped Facebook Timeline user interface, which still hasn't rolled out to all users yet). Apparently, the new desktop client provides access to Facebook Chat, the Ticker feed, and update notifications. From what it looks like, the social networking company is trying to gauge user interest in desktop client access to these real-time features that could keep users engaged all day without the need of having to keep a browser window open for the Facebook website itself. If I say so myself, such a client could become instantly popular, especially since Facebook is essentially the largest contact list for most people these days, the author included.TechCrunch has confirmed the client's limited beta launch with Facebook, and has stated that the fraction of the entire Facebook user base chosen to participate randomly to join the test group are being prompted via a homepage notification on Facebook itself. There is also "no public download link, and the client is only compatible with Windows 7, though it was developed entirely by Facebook and does not constitute a new partnership with Microsoft." Facebook is working on getting more users using its Chat service, as this summer it pushed out its standalone Messenger app for the iOS, Android, and BlackBerry platforms.
Combining Chat and the Ticket feed into once service is a first for Facebook, and by doing that, the social networking company can potentially get users "on its communication system that produces huge volumes of sustained attention, and then get them frequently returning to the site by clicking through Ticker and notification links". This looks like a very smart move, since by stripping Facebook down to just its bare minimum but real-time elements, users can choose to leave on Messenger for Windows throughout the entire day. The plans seems to be that if the Windows 7 version gains mucho traction, Mac OS X and other operating systems clients could very well be on the way in development and release.
[via TechCrunch]