Facebook testing nested comments, makes conversations easier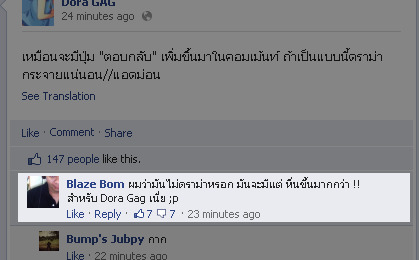 If you've spent any decent amount of time on Facebook, you've no doubt noticed the inefficient means by which people are forced to carry on conversations in the comments section. Namely, if there are more than a handful of comments, users are forced to respond by tagging the user's name, or using the clunky "@Name" for those not on their friends list. Now Facebook is testing nested comments that will solve this issue, but it's only available for some users.
Users have requested nested comments – or threaded comments, depending on your vernacular – for a long time. A quick browse through the social network shows many pages titled something like "Facebook needs threaded comments", with hoards of users lamenting the lack of said feature. Now, however, users in several countries, including Thailand, have access to a "reply" button on individual comments.
By clicking the reply button, users can post a reply to an individual comment, even if its way up in a very long comment thread. The user to whom you replied will then receive a notification that a response was provided to their individual comment, to which they can issue another response, for a total of two nested comment layers – two layers of comments off the main comment thread.
A Facebook spokesperson offered this statement to Venture Beat. "We are testing a new way to add comments to a post on Facebook. With this test you will be able to reply to another comment as well as the original post. This is just a small test at this stage." Presumably, the feature will be rolled out to other countries in the relatively near future, but there's no word on when that might happen.
[via Venture Beat]