Facebook sued by rapper Eminem's Eight Mile Style over copyright infringement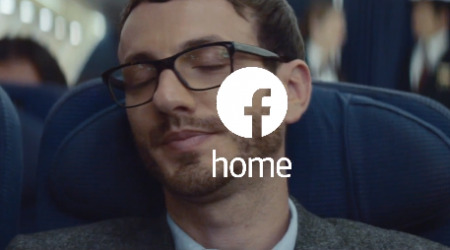 Late yesterday, Facebook was hit by a lawsuit from Eight Mile Style, the publisher that controls rapper Eminem's music, including licensing rights, and, if necessary, legal action when someone infringes on those rights. Such is the nature of the allegations being made against the social network, which is said to have used music from Eminem's song "Under the Influence" in its Facebook Home video called "Airplane."
The advertisement, which you can watch in the video below, was replaced shortly after the allegation arose with a different video, which ended up being the ad shown on television and elsewhere. Eight Mile Style contacted the ad agency Wieden+Kennedy that made the advertisement in April, and received a response back via an attorney working with the company on April 29, according to the Detroit Free Press. In the response, the publisher was reportedly told it couldn't "assert copyright" because Eminem's song had been copied from Michael Jackson's "Give In To Me," released back in 1991.
Wieden+Kennedy is no stranger to using Eminem's music in advertisements, having done so (with permission) in 2011 during a Chrysler commercial. Rather than denying the accusations that it ripped its beat from the rapper's song, the company instead says that copyright infringement can't be claimed because the song that was infringed was itself an infringement of another song.
Eight Mile Style's Joel Martin said in response to the attorney's statement: "I find it so arrogant, after they did so well with the Chrysler-Eminem campaign, that they would say Dr. Dre stole this from Michael Jackson." That's not the only claim the attorney made, however, saying that steps have been taken to make "Airplane" no longer available to the public, which is strange considering that it is still available on the social network's YouTube account (we have it attached above, after all).
The advertisement agency is also claiming that the Facebook Home advertisement's soundtrack "simply is not substantially similar" to the song cited in the lawsuit. Facebook isn't the first company to offer an advertisement that used the artist's music without permission: Audi and Apple have both done the same. Thus far, Facebook hasn't made a statement regarding the allegations.
SOURCE: Detroit Free Press