Facebook Messenger may soon use face recognition to lock the app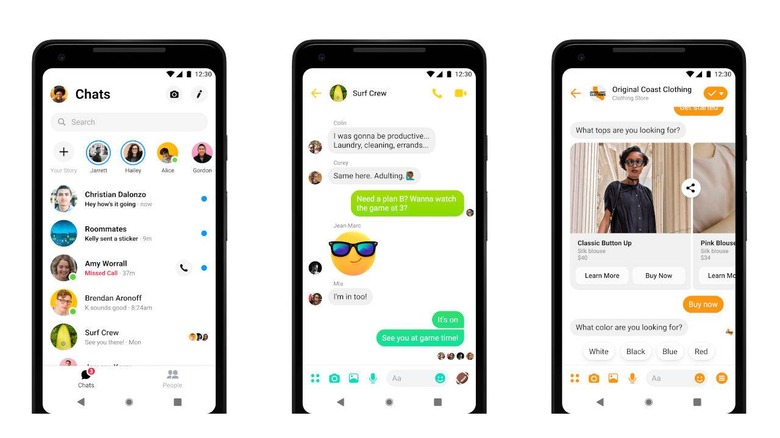 Facebook may now be better known for violating the privacy of its users but it doesn't want anyone else from doing the same. All your best efforts to set all the privacy options on Facebook are all for naught, however, the moment some inquisitive friend or relative gets a hold of your phone and, therefore, your Messenger chats. That's probably why it is apparently developing a way to securely lock your chats, using your face as the key.
To be fair, it definitely sounds like a useful and much-needed feature. No matter how much you use encryption or two-factor authentication, the moment someone else gets a hold of your phone, those measures are thrown out the window. Sure, you can also secure your phone's lock screen with a fingerprint or face but this is for those few critical seconds in between when your phone and everything in it is vulnerable.
Developer Jane Manchun Wong discovered a new feature in Facebook's Messenger app that would allow users to lock the app after they leave it, whether instantly or after a delay of up to 1 hour. Additionally, it would be possible to unlock the app with what the leaked screenshot calls "Face ID".
Facebook Messenger is working on "Face ID" app lock

It can be enabled right after the user leave Messenger or after a duration

It seems Face ID will NOT be sent to, or stored by Facebook's servers, according to the description shown in the screenshot pic.twitter.com/pqBQAjOrnd

— Jane Manchun Wong (@wongmjane) January 23, 2020
Given Wong says it was from an Android phone, this is definitely not Apple's Face ID and will probably be renamed later unless Facebook wants a lawsuit. It definitely looks like a work in progress given some less than professional text. It does at least suggest that those enabling the feature will still be able to read and reply to messages in the notification, which decreases its security just a bit.
Perhaps more importantly, the text suggests that face recognition details will not be stored on Facebook's servers. Whether it will implement its own technology or use Android's and iOS's facilities isn't yet clear. And whether it will indeed do as it says will be a whole different matter entirely.