Facebook makes it easier to donate blood in the US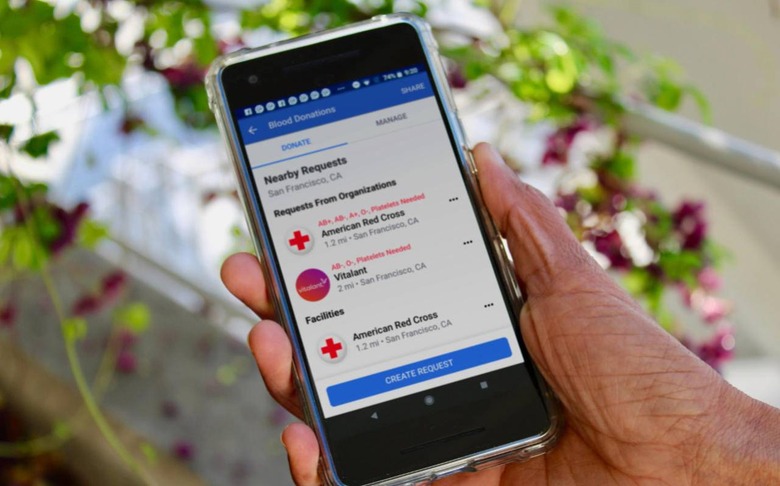 Blood banks in the United States are reporting a decrease in donors, a problem Facebook is helping address with a new Blood Donations tool on its primary social network. Facebook users in the US will start seeing the new feature in select major cities, making it easier for them to find a nearby blood donation center in need of donors.
Blood donations remain a critical component in a variety of health care settings, including emergency rooms and surgery centers. Current demand levels require tens of thousands of donors daily in the US, but the number of blood donations has been on the decline, particularly during the summer and winter months.
Facebook's focus on blood donations isn't new — it started offering this blood donation center feature in Pakistan, India, Brazil, and Bangladesh starting in 2017. In the years since, the company reports having seen more than 35 million people sign up to be blood donors through its platform. According to the company, 20-percent of those individuals cite the feature on Facebook as an influencing factor on their decision.
On June 11, Facebook announced plans to introduce the same feature on its platform in the United States. Users located in Washington, DC, the San Francisco Bay Area, Chicago, New York City, and Baltimore will see the feature first, but it'll eventually be available to all users across the US.
The company has partnered with American Red Cross, Rock River Valley Blood Center, Vitalant, and a number of other organizations. Through Facebook, users can find their nearest blood donation centers and sign up to become a donor. By signing up, users will receive alerts when the center requires blood donations, including the specific blood types required.