Facebook makes it easier for iOS app integration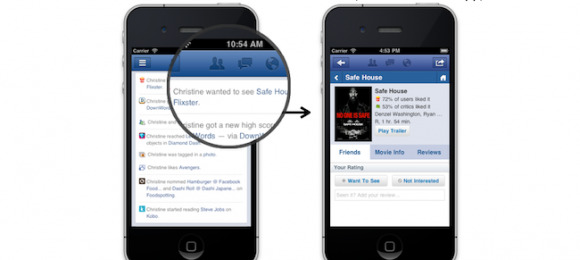 Facebook today announced that it has released new functionality that allows native iPhone and iPad applications to get traffic from Facebook. That is, app developers will be able to more easily direct users from the iOS Facebook app to an external website or app. It's an extension of an initiative Facebook launched in October called Social App Discovery on Mobile. Today's advancement includes what the social networking site calls "granular controls for native iOS apps."
"By default, published News Feed or Open Graph stories will link back to the provided story URL. For example, you may link these stories to your mobile web site or you may link to an intermediate page that then redirects to either a mobile web site, desktop page, or native URL," the site explained in an official blog post. The Open Graph refers to a recently launched feature that give app makers a much stronger sense of flexibility in developing for the Facebook platform, both on browsers and within mobile Facebook environments.
So with the new update, developers are now able to draw users seamlessly to their apps from Facebook. So if there's a new movie and the studio wanted users who click on a news story about the movie in Facebook to launch the film's official iPhone app, that's now possible. That is just one example of what's possible with the new platform, and it will of course only continue to grow especially as Facebook enters IPO territory.
[via Facebook Developers Blog]