Facebook gives Android users more control over location tracking Facebook has announced a new location setting for its Android app, giving those users more control over when the service can access their device's location data. In contrast to iOS users, Android users have only had the option to either grant or deny Facebook access to location services, but that changes starting today. Android users can now choose whether Facebook will have access to location info when they're not using the app.
On iOS, Facebook users have the ability to restrict the social network from accessing location data while the app is closed. Android users could only prevent the app from collecting location info entirely or give it wholesale access to location data collection. Users weren't happy with this and now Facebook finally has a solution.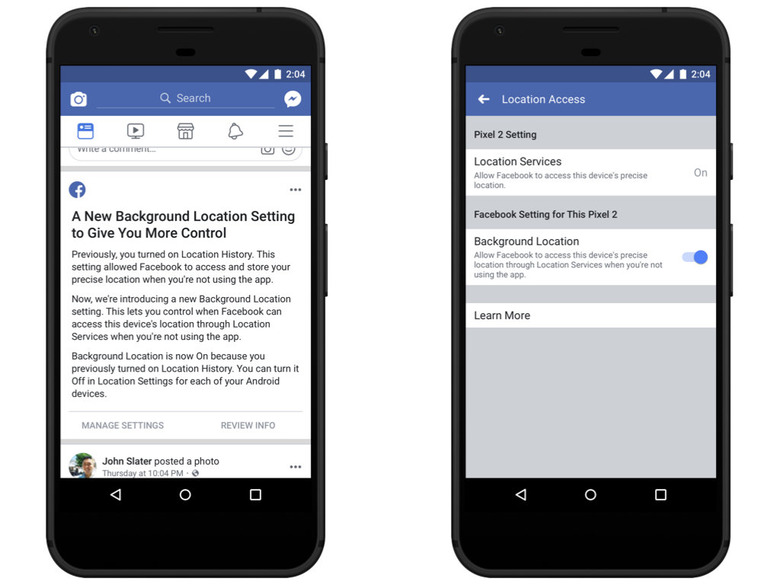 With its newly launched background location control, Android users can now limit Facebook's location data collection to only times when the app is in use. To start with, Facebook users who already had their location history disabled will find the new background location control set to "off" by default. Users who had location history turned on will find the new control is set to "on."
Facebook is pushing out an alert to its Android app users who had previously turned on location history. The users will be informed about the new setting and prompted to review the feature to make sure it is configured the way they want. Users who already had location history enabled don't need to mess with the setting (unless they want to turn it back off, of course).
Nothing has changed for Facebook's iOS users, though the company is sending out a similar notification to users who have location history turned on. This is described simply as a 'checkup' so that users can review their setting and adjust them if desired.