Facebook Announces Open Compute Project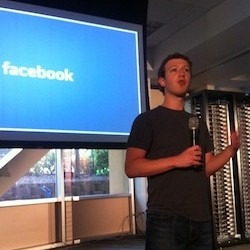 Facebook announced the Open Compute Project today on Facebook live, hoping to share the innovations the company developed at its Prineville, Oregon data center. We watched the company's press event today at its Palo Alto headquarters, in which CEO Mark Zuckerberg explained that Facebook's new features have necessitated a more efficient data system. So Facebook has built a new system from the ground up, and they are now opening it up, making the server and data center designs and schematics freely available.
The innovations at the Prineville data center have made the servers 38% more efficient, and 24% less expensive than the previous servers, Facebook's head of technical operations, Jonathan Heiliger said. Facebook was spending $50 million a year on data centers in 2010, and has invested $200 million in the Prineville center. They are also planning on investing $450 million in another center in North Carolina.

In 2010, Facebook moved to the HipHop PHP compiler it had designed internally, reducing CPU usage by 50%, and improving performance 1.8 times. The company will use a stripped down server chassis, and redesigned power supply. The Oregon center will not use air conditioning, cooling servers with natural air flow. These changes help Open Compute Project centers achieve a better power usage efficiency rating (PUE), which is a ratio of total data center power usage to the power delivered to the computing equipment. The Prineville center has a PUE rating of 1.07, beating the industry standard of 1.5.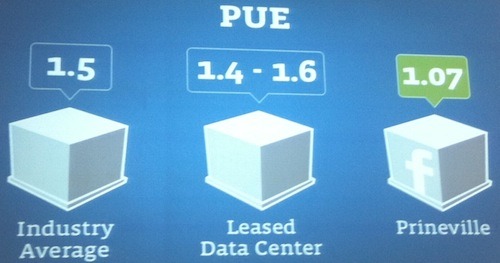 Among the companies present at the annoucement were Zynga and Rackspace, which are considering implementing the project at their facilities.
[via Facebook live]
images from Inside Facebook