Face.com shutters API support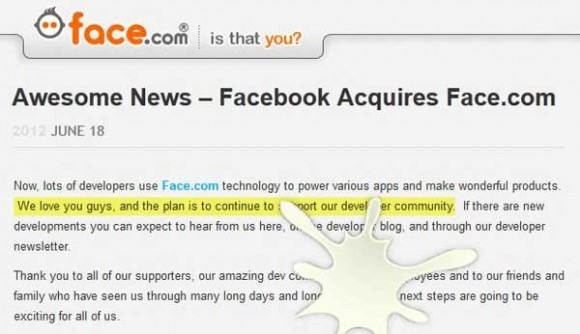 Remember when Facebook acquired face.com last month? Face.com reported at the time that it planned to continue to support its developer community. I think most of those developers suspected that wasn't an accurate statement when it was made, and that inaccuracy has now been confirmed.
API support for face.com's face detection software is going to be ended in early August. The official face.com Kilk app has already been removed from the App Store as well. There are sure to be some angry developers after face.com said about a month ago it would continue to support its developer community only to announce that support is officially ending.
Some developers are calling for boycotts, and others are saying that have wasted months of work with the API now been canceled. However, there is one report of a member of the face.com developer community saying he was granted an API extension through October. At least that would give the developer time to figure out an alternative rather than simply scrapping the app.
[via Engadget]