EyeFi SD Cards Turns Everything Wireless - Kind of Everything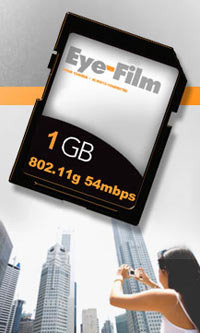 Well I should clarify that EyeFi has yet to confirm that EyeFi SD will support smart phones such as the Treo, PDA or any SD-enabled consumer product. The companies FAQ page states that they hear our feedbacks, but their primary focus is on the digital camera, but they're taking the PDA opportunity very seriously (whatever that means). So essentially, the EyeFi SD card promises to turn every digital camera into a wireless (802.11g Wi-Fi which is backward compatible with 802.11b.) camera. So what does this mean for you? It means that your digital camera is now empowered by the wireless god to send photos to yourself, friends and even directly to your Flickr account with out going through the computer or laptop first. Not only that, there's up to 1GB of storage to hold all your photos.
The price of the EyeFi SD card is unavailable, but the beta release is due out in the fall – and yes I've already requested to be a beta tester.