Extra geeky iPad and pillow covers debut from Happy Covers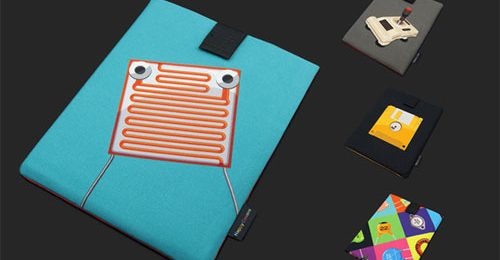 Nothing screams I'm a geek like a house full of gadgets and gizmos. If you want to announce to the world that you are a geek away from the house, you have to get creative. A company called Happy Covers has a line of throw pillow covers and iPad covers that are made by hand.
The covers for the iPad have some geeky themes like a retro video game controller, a floppy disc, and a diagonal cover with pictures of all sorts of resistors and other geeky bits from the inside of electronic devices. The covers are hand sewn and each piece is slightly different according to the maker.
The iPad covers are padded and made from 100% cotton fabric. A Velcro style latch keeps the iPad in the case. The maker says the cotton fabric is the same material used to make "a jeans trouser". I think that is a European way of saying denim. The pillow covers have similar geek themes. iPad covers are €23.99 each with pillow covers starting at €22.99 each.