Evolve Heated Hoodie keeps wearer warm with USB battery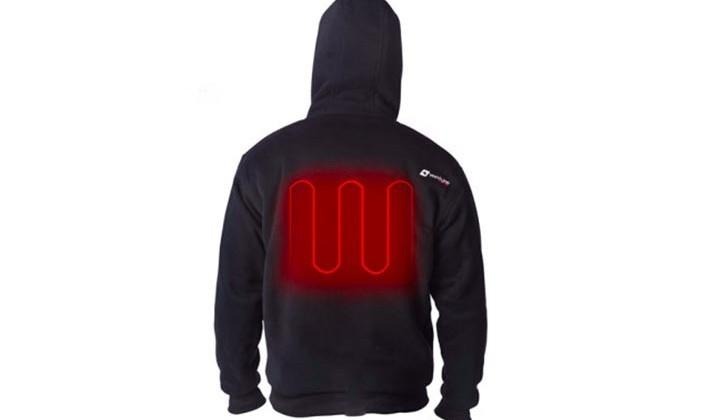 Winter is coming, and for those in the colder regions of the land, that means snow and ice and layers upon layers of clothes. Depending on where you live, the temperature might get exceedingly cold, but piling on a sweater and then a hoodie and then a winter jacket is cumbersome, uncomfortable, and looks ridiculous. Enter the Evolve Heated Hoodie, which is a simple hoodie that uses a battery power bank to warm up from the inside out.
The heated hoodie has a single flexible heating panel built into the back, and another panel built into the chest region. They are powered by a standard power bank with a 2.1a output over USB...meaning that portable battery you picked up for emergencies could probably keep your jacket warm.
There's a mesh layer that is breathable and designed to optimized heat transfer. The hoodie can be washed in the washing machine despite its heating panels, and can be put through the dryer (not the battery, of course!). There's a button that controls heat level, with three being available: blue (low), white (medium), and red (hot). A 10,400mAh battery will power the jacket for up to 12 hours, depending on setting.
The folks behind the hoodie are seeking funding on Indiegogo, where they have just kicked things off. The team has a $30,000 USD funding goal, and so far nearly $500 has been raised with 30 days remaining. Those who pledge $89 USD will get one of the early bird units, of which there are 50. Those are slated to ship this upcoming December.
SOURCE: Indiegogo