eviGroup shows off cool new Paddle Pro tablet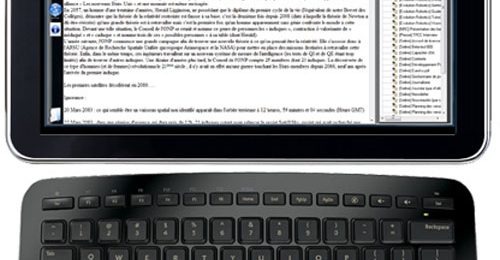 You might remember the eviGroup Paddle tablet that surfaced back in June. A new version of the Paddle has now been unveiled called the Paddle Pro that has some strange new features. The tablet looks much like the older version on the outside.
Under the hood, the strangest of the new features is the ability to control the Windows OS using head movements. The cursor for the mouse on Windows can be controlled with your head using head tracking technology. That is somewhat cool; I wonder how well it actually works in use. Clicks are activated by looking at an item for half a second. The company claims no adjustment or calibration is needed.
Other features of the Paddle Pro include Windows Home Premium, an Intel Atom N450 CPU, WiFi, and 3G connectivity. The machine also has a high-capacity battery good for nine hours of use per charge. The Paddle Pro with the battery and more is 1500 euros. The device has wireless connectivity to your TV, HDMI out and a 3.5mm headphone jack.